Google SketchUp Training in India
Trimble SketchUp which was earlier a subsidiary of Google is a 3d modeling software for multi-faceted design and modeling. It can be used for creating architectural, landscape modeling, Interior, Civil and Mechanical engineering design. It even goes beyond this and can also be used for creating 3d animation films and video games. This software is available as free ware and as a paid software with additional functionalities. It has a very huge collection of 3d models of objects that can be used readily while creating one's own 3d design. Wizcrafter is the only Authorized training institute in whole North India that provides training in Trimble SketchUp.
The course aims at providing training on this software for developing low value projects which is mainly used by students and hobbyists. Unlike the professional software's by Autodesk like 3ds max and others, this software is low on your pocket and is used for school and college projects. You have a 3d ware house where a huge collection of 3d models like that of a table or chair is already available for use. Our instructors will open your creative side and will help you develop the design of your choice by simply using the models available in 3d warehouse.
Google SketchUp Foundation :
Interior modelling
Exterior modelling
Generate clear, visual RFI graphics
Export-import cad as well as other data types
Collaborate
Creating 3d text
Animating and rendering your drawings
Google SketchUp Advanced :
Use of 3d warehouse
Advance V-ray light in model
Add Camera projection
Advance modelling in SketchUp
Work on advance project
Advance Material & textures
Hair & fur modifiers
Rendering with V-ray advance
Create Walkthrough of model
Add realistic Animations
30 Hours Theory
25 Hours Practical
20 Hours Project work
Foundation Technical Features:
A practical introduction for interior designers and students. Covers the basics of creating 3D models before showing how to create space plans, model furniture, cabinetry, and accessories, experiment with colors and materials, incorporate manufacturers' models into project plans, and create final presentations and animated walk-throughs for clients. Includes downloadable sample models and a tutorial video, sample questions and activities for instructors and additional online resources for students and self-learners.
SketchUp Pro is 3D modelling software that's easy to learn and use. Use SketchUp Pro to get owners, inspectors, architects, engineers, and subcontractors all headed in the same direction. Start by drawing lines and shapes. Push and pull surfaces to turn them into 3D forms. Stretch, copy, rotate and paint to make anything you like. If you want to be productive within a couple of hours, this is the solution you need.
Export-import CAD as well as other data types
SketchUp Pro can bring in DXFs and DWGs from any standard CAD package. It can produce images, PDFs, CAD files, and HD animations. You can be sure that SketchUp Pro will plug right into your workflow.
Construction organizations use SketchUp Pro to quickly and effectively communicate 3D information to all project teams, enhancing collaboration and ensuring a shared vision. Using 3D models, one can make more informed decisions, communicate project details, and share ideas with colleagues and customers to reach a common goal.
Go to Tools > 3D Text
Choose your settings, font, and enter your text in the field
Hit Enter
Select the face or plane you'd like to place your text Height
3d text gives you an option to choose the height of your text Width
Getting a specific text width can be a little tricky.  The first thing you need to do is measure the current length of your text
Animating and rendering your drawings
SketchUp can animate scenes of a 3D model. Animations are a great way to show off your model from different angles or share shadow studies. For example, say you create a scene with a morning shadow, another scene with a noon shadow, and a third with an evening shadow. With SketchUp's animation feature, you can watch the shadow transition from morning to evening. Before you create an animation, create scenes of your model, each with different settings, as explained in the article, Creating Scenes. When the scenes are ready to be animated, you can create the animation in one of three ways:
Play an animation of the scenes in SketchUp. Export the animation to a video file, such as .mp4, which plays on most devices.
Export an image set, which is a collection of image files that you can animate with video software.
Advance Technical Features:
Search box: Type a search term in the Search box and press Enter. 3D Warehouse shows you models with a title, description, or hashtag that matches your search term.
Upload a model: Click this button to begin uploading a model. You need to sign in with your account to upload a model (if you're not signed in already).
Sign In link/user menu: Click the Sign In link to sign in to 3D Warehouse with your Trimble ID. After you sign in, this link becomes the user menu.
Featured community models: See 3D models that are popular or created by skilled 3D modelers.
Featured catalogues: Browse verified manufacturers that have created catalogues of their products (such as appliances, furniture, or materials) on 3D Warehouse. Catalos enable you to browse models and materials from these well-known brands.
Featured commercial models: This area features models that manufacturers created for 3D Warehouse.
Featured users: Look here for featured 3D Warehouse users, including the SketchUp Official profile.
V-Ray is a very popular extension for lighting in SketchUp. It's perfect for creating a photo-realistic exterior daytime view of a model. Once you've installed it, simply use the V-Ray asset editor to adjust your render settings. The materials are initially overridden so the exterior lighting contribution is the focus. Open the 'lights' tab and you see that sunlight is added by default. When you click on the 'sunlight' source you get a menu where you choose various sun related parameters to set, things like color, intensity, size, and more. These settings influence the blurriness of shadows as well as the sun's appearance in your rendered reflections.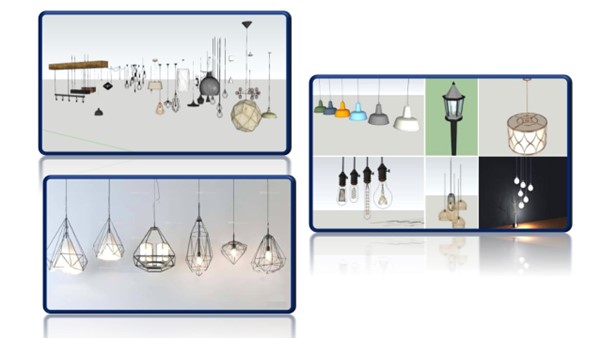 Creating an ACT camera
To create a camera using ACT:
Select View > Tool Palettes > Advanced Camera Tools (Mac OS X) or View > Toolbars > Advanced Camera Tools (Microsoft Windows). The Advanced Camera Tools toolbar is displayed.
Select Tools > Advanced Camera Tools > Select Camera Type > categories > camera. Shaded horizontal letterboxing (1) or vertical pillar boxing (2) bars appear if your camera has a different aspect ratio than SketchUp's drawing area. The area within the bars indicates the area viewable through the camera.
Click Create Camera . The Camera Name dialog box appears.
Type a name of the camera in the Name field.
Click Done. A physical camera model (group) is created and placed in your model. You are placed in camera view mode, where you are looking through the camera at your subject. A crosshair shows the middle of the camera. Camera properties appear in the lower-left corner of the model. A tab with the camera's name also appears. You can perform several functions on the camera, such as looking through the camera and editing camera properties in camera mode.
(Optional) Use SketchUp's Orbit, Pan, and Zoom tools to physically reposition the camera in your model. Using the Zoom tool physically repositions the camera. See Repositioning an ACT camera for details.
(Optional) Use the arrow keys to pan, tilt, dolly, truck, pedestal, roll, and adjust the focal length while looking through the ACT camera. Moving and Aiming an ACT Camera explains how these actions work in detail.
After you adjust your camera, click Lock Camera . This option ensures that you don't move or alter the camera position or settings.
Context-click and select Done. You are finished creating your camera.
  Navigating SketchUp
  Creating camera views
  Configuring the toolbars on Mac and Windows
  Selecting, moving, and scaling objects
  Using the line tools for 3D drawing
  Creating rectangles, outlines, circles, and freehand shapes
  Creating 3D text
  Using the measurement and labelling tools
  Organizing drawings with groups and layers
  Creating components and using components from the 3D Warehouse
  Creating and applying materials
  Working with textures
  Rendering and animating drawings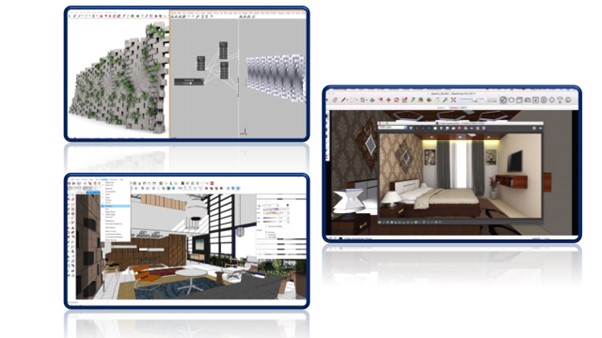 • SketchUp Pro is the easiest way to build, analyse or present in 3D!
• Communicate with everyone on the projected Win of more jobs with impressive marketing collateral.
• Generate clear, visual RFI graphics.
• Model details to clarify complex conditions.
• Produce site logistics plans Create dimensionally accurate, highly-detailed 3D models.
• No extensive training is required.
• Import and export CAD and other types of data.
• Create project sequencing animations.
• Create compelling communication documents.
After you apply materials like these to your model, the special capabilities of SketchUp's materials can help you do any of the following:
Replace one material with another: Say you want to show a metal roof instead of shingles. You can swap the roofing material for shingles quickly and easily.
Edit the material: Because the colour and texture are separate, you can change them independently of each other. For example, you can change the siding colour (how does yellow look?) but keep the same texture. You can also edit a material's opacity, which controls how opaque or transparent the material is.
Calculate how much material you need: SketchUp can tell you the area of all the shingles or the siding. Of course, for this calculation to mean anything, you need to create a precise model so that the numbers reflect your model's actual size.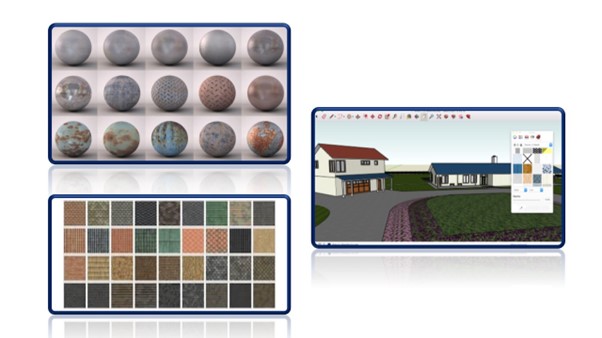 The Hair and Fur modifier is the heart of the Hair and Fur feature. You apply it to any object you want to grow hair from: a mesh object or a spline object. If the object is a mesh, the hair grows from the entire surface unless you make a sub-object selection. If the object is a spline, hair grows between the splines
Components of the Hair and Fur Feature-
• Growth Objects
• Guide Hairs
• Styling Hair
• Copying and Pasting Hair
• Textures, Vertex Maps, and Shaders
• Lighting Considerations
• Loading and Saving
• Animating Hair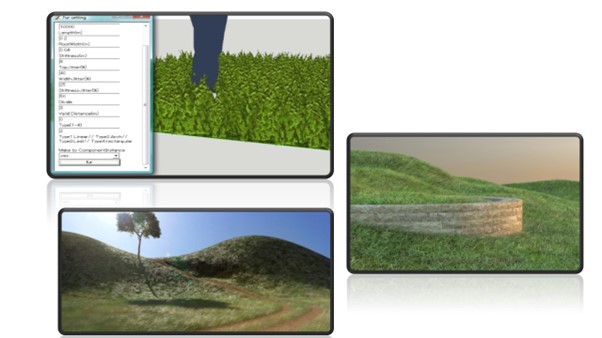 V-Ray for SketchUp is a 3D rendering software that combines real-time and photoreal rendering — all in SketchUp. From beginner to pro, Chaos V-Ray has all the tools you need to visualize your SketchUp projects from start to finish.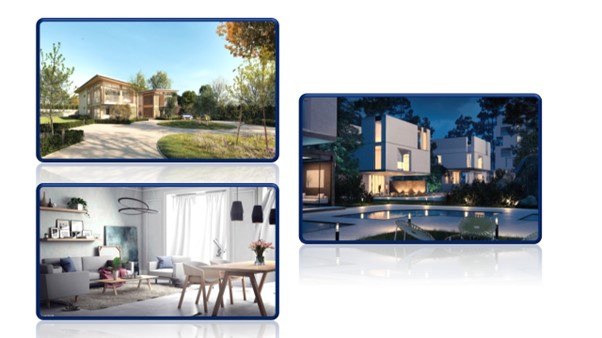 Create Walkthrough of model
That's basically what SketchUp's walkthrough tools enable you to do. But instead of altering your entire body composition, you just click a few tools — namely the Position Camera, Look Around, and Walk tools.
Here's how each tool enables you to tour your model:
The Position Camera tool enables you to view your model at a specific height relative to the surface of your model. That height is meant to reflect a person's eye height, and you can adjust it to any height you like.
The Look Around tool enables you to move the camera from side to side, sort of like turning your head.
The Walk tool moves SketchUp's camera forward or turns it in different directions, which simulates how your model looks from eye height.
SketchUp can animate scenes of a 3D model. Animations are a great way to show off your model from different angles or share shadow studies. For example, say you create a scene with a morning shadow, another scene with a noon shadow, and a third with an evening shadow. With SketchUp's animation feature, you can watch the shadow transition from morning to evening.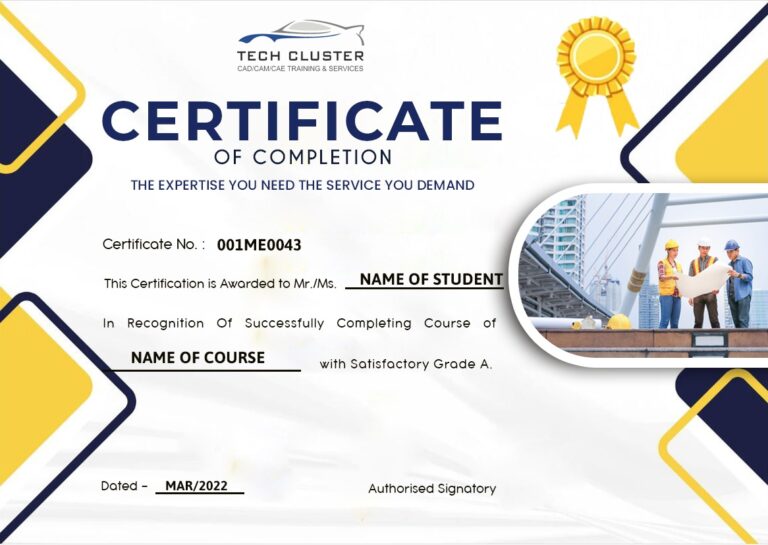 Google SketchUp Certification Training
About Google SketchUp Certification Training in Indore at Tech Cluster