Revit MEP Training in India
Autodesk has bought the Massachusetts-based Revit Technology Corporation in 2002 to allow research, development and improvement in the construction domain enabling Architects & Structural Engineers.
Autodesk Revit is a building information modeling software for architects, structural engineers, MEP engineers, designers and contractors. It allows users to design a building and structure and its components in 3D, annotate the model with 2D drafting elements, and access building information from the building model's database.
Civil Engineering, Construction Engineering, Bridge Engineering , Marine Engineering ,Contactors ,BIM, Architectural Design & Engineering ,MEP Engineering etc.
Introduction to Revit MEP
CREATION OF HVAC Systems
PLANNIG OF Electrical Systems
CREATION OF Plumbing Systems
Fire Protection Systems
Construction Documents
Advance MEP Drawing creation
Calculation Of Heating and Cooling Load
Analyze RCC And Steel Structure
Calculate Pressure Loss in Pipe System
Scheduling Of Project
Making Project Report and Sheet
Tags, Spaces and Schedules
Detailing With Revit MEP
45 Hours Theory
35 Hours Practical
25 Hours Project work
Foundation Technical Features:
Introduction to Revit MEP
Autodesk REVIT MEP is a building information modelling (BIM) software that gives mechanical, engineering, and plumbing experts the greatest tools for designing complex systems.
Electrical
Plumbing
HVAC
Fire & Tech
Mechanical
Prepare for Heating and Cooling Loads Analysis
Determine Heating and Cooling Requirements
Select Parts for the HVAC Systems
Design the Duct Systems


Planning OF Electrical Systems
Create electrical systems (circuits) to place devices, lighting fixtures, and electrical equipment in a project.
 Wire
Cable Tray
 Conduit
Parallel Conduits
Cable Tray Fitting
Conduit Fitting
Electrical Equipment
 Device
Lighting Fixture
Creation of Plumbing Systems
Plumbing systems are logical entities that facilitate calculations for flow and sizing of equipment.
Create a Sanitary System
Create the Domestic Cold-Water System
Create the Domestic Hot Water System
Create System Types
Customize System Types
Rise Drop Symbols
Generate Layout Settings
Generate Layout
Troubleshooting: Layouts for Duct and Pipe
Pipe Conversion Settings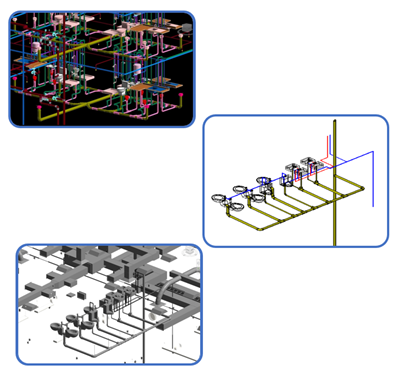 Learn how to perform hydraulic calcs on any Revit fire protection system using Spink CALC software directly from the Revit model
Discover the difference between standard Revit tools and the Spink CAD suite of tools for FP designers and engineers
Learn how to create Revit Families of sprinklers, valves, fittings, hangers, and more with the Spink CAD Family Builder
Learn how to quickly connect arrays of sprinklers to a main pipe with multiple branches and variable armorers, including flexible drops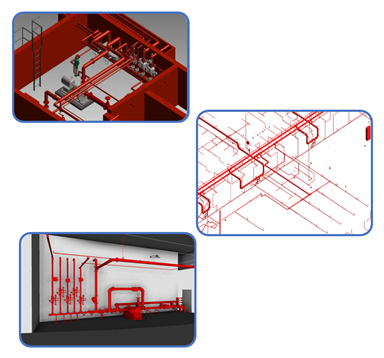 A construction document set (also called a drawing set or a sheet set) consists of several sheets. Each sheet contains one or more drawings and schedules for the building design.
Advance Technical Features:
WE CAN CREATE Architectural, HVAC, Plumbing, Fire Fighting, Mechanical, And Electrical System Designing As Well As Electrical Analysis, 2D To 3D Designing, 3D Rendering Reports, Sheets, Work Descriptions, Load Calculations, Shop Drawings, And Details.

-HVAC (HEATING, VENTILATION, AIR CONDITIONING):

-FIRE FIGHTING:

-PLUMBING SYSTEM:

-ELECTRICAL AND POWER
Calculation Of Heating and Cooling Load
About Heating And Cooling Loads Analysis
Prepare For Heating And Cooling Loads Analysis
Performing A Heating And Cooling Loads Analysis.
Schedule Fields Used With Heating And Cooling Loads Analysis
Import A Loads Analysis From A Gbxml File
Energy Analysis Building & Space Type Imperial Data


 
Analyze RCC And Steel Structure
Draw, design and document your structure projects with REVIT
Enter the design field with BIM (Building Information Modeling)
Master the powerful drawing tools
Create your own templates
Export to calculation programs
Create and document plans
Create and analyze loads and reactions in structures
Present your results with quality plans in half the time.
Calculate Pressure Loss in Pipe System
Revit uses the Darcy-Weisbach equation to compute pressure drop on pipe segments, fittings, and accessories. You can select from the following Darcy-Weisbach friction factor methods: Haaland or Colebrook.
A closed loop hydronic piping network contains:
A single source equipment component such as a boiler or chiller (optional)
A single pump or circulator
Any number of loads such as radiators or fan coil units
Any number of pipe segments in the supply section and return section of the loop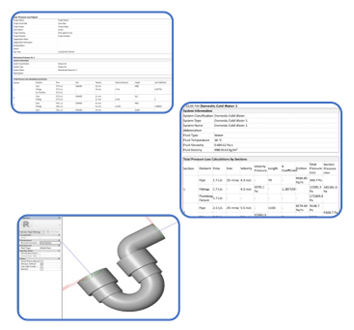 A schedule is a tabular display of information, extracted from the properties of the elements in a project. A schedule can list every instance of the type of element you are scheduling, or it can collapse multiple instances onto a single row, based on the schedule's grouping criteria.
Types of Schedules
Schedules (or Quantities)
Key Schedules
Material Takeoffs
Annotation Schedules (or Note Blocks)
Revision Schedules
View Lists
Drawing Lists
Panel Schedules
Graphical Column Schedules
Making Project Report and Sheet
Architects Create multiple drawings for plans, which is especially useful for multi-story buildings or other repetitive drawings with similar view layouts.
Structural engineers & MEP Engineers Create multiple detailed drawings based on your template sheet to keep the same drawing style and save time. 
Manufacturers Create multiple detail drawings with the same view layout to save a lot of time and avoid human errors.
Powerful features
Create multiple sheets with similar layouts instantly.
Easily add or replace views on multiple sheets at once. 
Keep the same visual options while creating multiple sheets. 
Keep the same view positions for multiple sheets.
Tags, Spaces and Schedules
Rooms and room tags are separate but related Revit components.
Rooms are model elements in Revit, like walls and doors. Room tags are annotation elements that can be added and displayed in plan views and section views. Room tags can display values for related parameters, such as room number, room name, computed area, and volume.
Annotation And Tagging. It Is the Concept Used in Revit MEP Where Tagging Or A Tag Is An Annotation. It Identifies the Elements in The Drawings. When A Tag Develops, The Labels That Added In The Display Represent The Exact Value Of The Desired Component's Parameters.
Dimensions
Naming's
Tags
Legends
Annotate
Sheets
Schedules
Revit MEP Certification Training
About Revit MEP Certification Training in Indore at Tech Cluster