Designers & Architectures with in depth knowledge on a very powerful 3D design tool also used for rendering is proved to be very efficient for delivering stunning and creative designs/structures/models. Not only in field of architectural design but also offering high quality designs in fields like animation, film, video games, products industry etc. V-Ray fast rendering and design tool is based on the global illumination algorithms. A certified program is must to become an expert in V-ray designs, in order to get practical exposure on almost every concepts.
Tech Cluster DesignWala is a leading V-Ray training institute in India, with a broad approach of providing enormous career opportunity in the field of architectural design across India. Our V-Ray fundamental and advanced training courses covers topics: why V-Ray Design training certification, application uses, V-Ray interface, Core concept of V-Ray, Camera, light setting feature, image sampling, effects & photorealistic rendering, integration facility, V-Ray RT, illumination, it's vast library access and a lot more which is beneficial for beginner/advanced or intermediate students/professional.In Architectural Design training and placement program, students or working professional get a chance to experience modules designed by our industry experts and get expertise on V-ray software either via online or offline mode off classes with live demo and interview preparations that to at a very affordable price across the industry. Tech Cluster designing coaching classes is physically located at Bhawarkua Indore in Madhya Pradesh (India), with industrial collaboration across the India to provide our certified students & professional with 100% job placements and internship in their designing field. Our V-Ray training classes are based on industrial concepts with complete hands-on experience on live projects. Main focus is on basic, advanced and core concepts needed in the entire journey from learning to get placement in a company. Tech Cluster, one of the best training classes in India, is glad to assist their students from beginning to end of learning journey and give a fresh start to your corporate/professional working life.
• VRAY MATERIAL
• ADVANCE LIGHTINING
• ATMOSHPHERE EDITING
• ADVANCE RENDER SETTING
• EDIT IMAGE IN VRAY FRAME BUFFER
• IMPROVE QUALITY WITH VRAY
• WATER VAPOUR & AIR EFFECT
• HAIR & FUR MODIFIER
• INFINITE PLANE WORK
45 Hours Theory
45 Hours Practical
20 Hours Project work
VRayMtl is a very versatile material that allows for better physically correct illumination (energy distribution) in the scene, faster rendering, and more convenient reflection and refraction parameters.
The VRayLight is a V-Ray-specific light source object that can be used to create physically accurate area lights of different shapes. Shapes are selected through options when creating the light via 3ds Max's Create panel (or Create menu), or, after the light is created, through the 3ds Max Modify panel.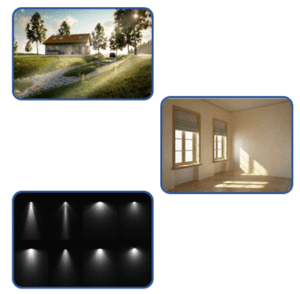 The VRayAerialPerspective atmospheric effect simulates the aerial perspective effect, the result of viewing objects from a distance through the Earth's atmosphere. The effect is similar to fog or haze.
The render settings control various options related to the output of rendered, or full quality images. Rendering an image will calculate effects not displayed in the editing environment (due to their complexity), and therefore takes a larger amount of time to produce an image.
EDIT IMAGE IN VRAY FRAME BUFFER
The V-Ray Frame Buffer gives you full control over your rendered output, with all the tools you need to review, analyze and post process your images. Keep track of work in progress and fine-tune and manage colors — all in the V-Ray frame buffer.
IMPROVE QUALITY WITH VRAY
In V-Ray for Sketchup, Rhino and Revit, render quality can be improved by dragging the Quality slider to a higher quality preset. Increasing the sampling limit for higher image quality requires more time to render. and in this case slower render times are expected.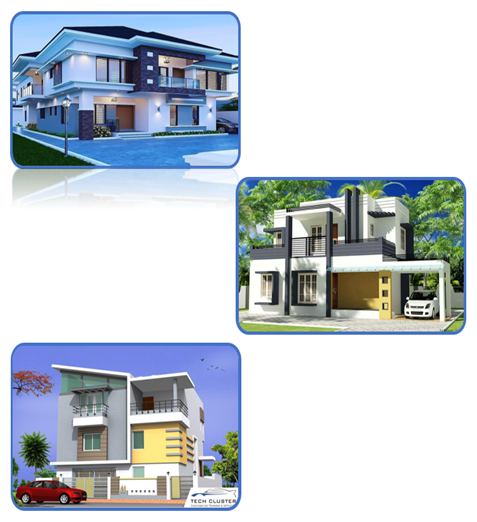 WATER VAPOUR & AIR EFFECT
VRay Environment Fog,AIR ,WATER is an atmospheric effect that allows the simulation of participating media like fog, atmospheric dust and so. Volumetric properties can be determined by 3D texture maps. The atmospheric effect can also be confined with atmospheric gizmo helper objects.
Hair&Fur; in 3ds Max, a modifier that grows hair and fur over any object. Usually H & F is used to generate hair: in tufts, sparse, curly, long, short, braids, etc. … but will occasionally be used for other purposes too. Clothe is used to create realistic pattern and look of cloth object.
The V-Ray infinite Plane is a very simple option that implements a procedural infinite plane primitive for V-Ray.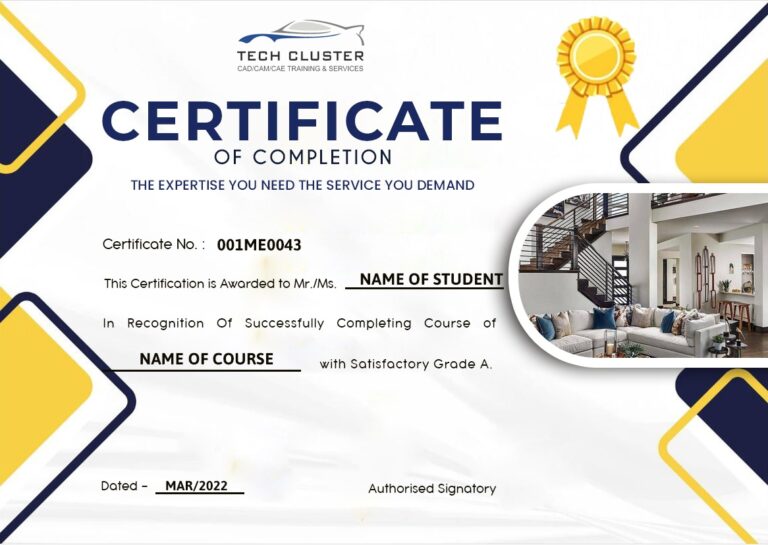 V-Ray Certification Training
About V-Ray Certification Training in Indore at Tech Cluster
Creates 3D Models based on the Multiple Geometry
Capture the Details of the Model like Mass Properties

Manages the Cross- Section, Orientation an Representation of Models
Dynamically Editing of the Geometry