Working Drawing Training in India
Creo is a family or suite of design Software developed by Parametric Technology Corporation (PTC) in 2011 which supports product designing at various level across many fields/industries. Creo is an effective 
Computer Aided Design tool 
used to create, analyze, view, and share designs downstream using 2D CAD, 3D CAD, parametric and direct modeling capabilities. One can use Creo to perform various designing activities such as: 3D Design, Industrial Design, Concept Design, Routed Systems Design, and Simulation. Creo is a design software which is specially designed for Automobile Industries.
Tech Cluster
 is an institute which provides 
Creo/Pro-E training in Indore
 and offers chances to avail a great opportunity to learn the tool from basic to advanced level. Our expert faculties cover all the important factors of 
Creo Parametric Training
 for beginners and intermediates. With our expert guidance students can excel in their career and earn good. After which you can find good opportunities in MNC Industries like Eicher and other automobile industries.
• Architecture Planning • Center layout plan • Structural Planning • Elevation Planning • Interior Drawing • Furniture Layout • MEP Planning
45 Hours Theory
45 Hours Practical
20 Hours Project work
Architectural plans include working drawings, schedules, and other sheets. Many architectural plan sheets are horizontal (section) views of the building. The most common plan sheets include floor plans, foundation plans, and roof plans. architectural plan sets will include each sheet listed below. 1. Title and Legend Sheet 2. Plot Plan (site plan) 3. Elevations 4. Foundation Plan 5. Floor Framing Plans 6. Floor Plans 7. Ceiling Framing Plans 8. Roof Framing Plans 9. Window and Door Schedules 10. Details and Section Views 11. Interior Elevations 12. Trade Plans (Mechanical, Electrical, Plumbing) 13. Specifications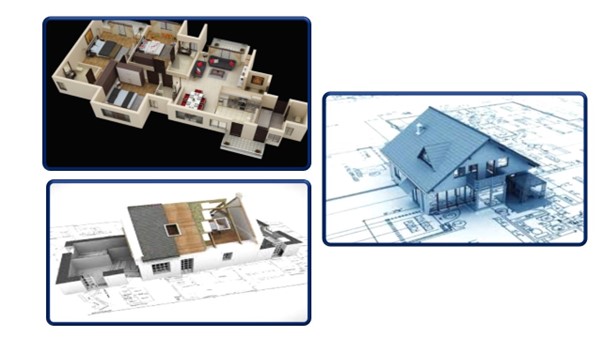 Centrelines are grids that mark the positioning of any structural or non-structural element on-site about a coordinate on the grid. Centrelines are depicted as Dash-Short Dashed line-type in drawings. It passes through the centre or in the alignment of a column, or wall, or any demarked element to reference its position according to the grid as shown. Centreline Plans are used to generalise a common grid reference for all type of related construction works.
Drawings created to construct the Structural Components of the building and representing the interconnectivity of beams, columns, stairs, slabs and thus alike. Excavation Plan • On-site excavations or execution of Trenches for Sub-Structure of the building requires a plan where all the trenches are marked according to Grid of centreline markings and the offsets of dimensions respectively. • Trench Plan highlights the dimensions (Length, Breadth, Depth) of trenches to be to excavated with reference to Centreline Grid. • It is required at an early stage, immediately after marking Centreline On-Site. Foundation Plan Structural drawing which has foundation notations with the dimensions (Length, Breadth, Thickness) of the column pad concerning the column placement according to the Centreline Grid markings. It also suggests the typology of the foundation to be used with any discreet specifications. Column Layout Plan • Column Layouts are used for erecting columns on site as per project design • These are referred onto the site for marking column placement, size and specifications of details of the column design. • Any column on the layout has a certain Grid Coordinate on Centreline Grid that is used as its Column Nomenclature. Plinth Beam Layout It is used for marking the Tie beam (Primary element for 'Earthquake Resistant Structure') which is used for connecting the columns emerging from the Sub-Structure (structure beneath the ground level) of the building. This layout gives the orientation of the Tie Beam to the column and also the Cross-section sizes with specifications of the design. Roof, beam and Slab Layout It includes the layout of roof slabs concerning the corresponding beam by the Centreline Grid Markings of Columns-Beams. This involves the orientation of the roof slab and Reinforcement Bar Details to be incorporated according to Structural Design. Details like diameter and number of reinforcement bars in a defined length are mentioned in roof slab layout for structural stability.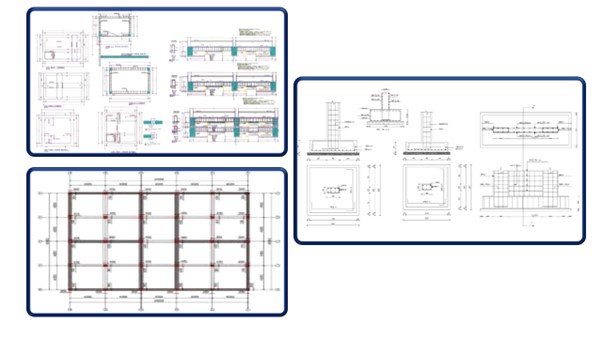 • Design Resultant of a building in architectural drawings is depicted through Elevations. • Elevations are referential for the contractor or building to keep a check on how the building should shape after completion. • These include Details like Finishes, Material Depiction through Graphical Notations, and Spot Elevation markings i.e., Level of Depth in a plane where the farthest plane is marked as ±00 level
Working drawings or construction drawings are graphic representations that communicate how to construct, remodel, or install a project. The drawings form a crucial part of any interior project spanning a series of phases. Nowadays, most interior firms have a dedicated department to prepare working drawings. They convey room designations, door, window and fixture locations, dimensions and spatial relationships, materials, colour schemes, furnishings, equipment, and other details. These drawings primarily set the design concept or design intent for an interior. Mechanical drafting or computer drafting, working drawings
Mechanical Drafting:  • Heating and cooling systems layout • Fire protection systems layout • HVAC duct layout • HVAC pipe layout Electrical Drafting: • Electrical riser diagrams • Lighting circuits • Wiring and cable drawing • Electrical panel diagrams • Electrical distribution layouts • Cable tray layouts Plumbing Drafting: • Domestic water systems layout • Drainage water piping layout • Natural gas piping systems layout • MEP Shop drawings • Water distribution plans and diagrams • Piping isometric drawings and sectional drawings
Working drawings or construction drawings are graphic representations that communicate how to construct, remodel, or install a project. The drawings form a crucial part of any interior project spanning a series of phases. Nowadays, most interior firms have a dedicated department to prepare working drawings. They convey room designations, door, window and fixture locations, dimensions and spatial relationships, materials, colour schemes, furnishings, equipment, and other details. These drawings primarily set the design concept or design intent for an interior. Mechanical drafting or computer drafting, working drawings
Working Drawing Certification Training
About Working Drawing Certification Training in Indore at Tech Cluster