Door Window Layout Training in India
Doors and windows are integral parts of the physical house( not of a  home though) that can create a statement. Afterall, its only the doors, windows and the painted walls of a house you can see from a distance. For the very same reason, we all spend considerable time in selecting the doors and windows while constructing our dream house.
Tech Cluster is an institute which provides Door Window Layout training in Indore and offers chances to avail a great opportunity to learn the tool from basic to advanced level. Our expert faculties cover all the important factors of Door Window Layout  Training for beginners and intermediates. With our expert guidance students can excel in their career and earn good. 
Whether you're building a new house or renovating your current home, one of your biggest questions is where to put new windows. Windows are arguably the most important feature of your home, bringing in natural light and giving you a view of the outdoors.But how many windows do you need, and where should they go? Let's answer these questions by examining each room of the house.
Door Window Layout Foundation :
Definition And Function
Location Of Door in Building
Component Of Door
Door Frames Technical Terms
Types Of Doors
Recommended Dimension For Window
Types Of Windows
Fixtures And Fastening
45 Hours Theory
45 Hours Practical
20 Hours Project work
The window is a framework of timber, steel, glass or combination of these materials. It provides light and ventilation to the interior of the building.
Size of doors and window 
Height of door is approximately taken equal to width of door plus 1.2 m. In India, door height of 2 m is considered most suitable. Minimum height of door is 1.8 m. 
Width of door is approximately taken equal to 0.4 to 0.6 times of height of door. Width of door generally varies from 0.8 m to 1.2 m. The maximum width of door is generally taken 3 m.
Height of window is generally kept 1.1 m to 1.2 m. Width of the window is generally kept 0.9 m to 2 m
Location Of Door in Building
Door should be away from the corner.
Door should not be exactly in centre because of privacy problem
Location chooses by proper circulation way.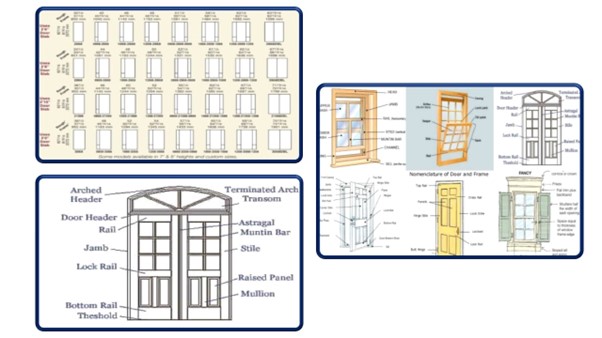 Following 16 technical terms used 
Frame
Hold fast 
Horn
Rebate 
Transom
Shutter
Style 
Top rail
Bottom rail 
Lock rail 
Frieze rail
Mullion or Mounting
Panel
Sash or glazing bar
Louver 
Putty 
Door Frames Technical Terms
Creates 3D Models based on the Multiple Geometry
Capture the Details of the Model like Mass Properties

Manages the Cross- Section, Orientation an Representation of Models
Dynamically Editing of the Geometry
The common types of doors used in buildings are as follows:
1) Battened and ledged doors. 
2) Battened, ledged and braced doors. 
3) Battened, ledged and framed doors. 
4) Battened, framed and braced doors. 
5) Framed and panelled doors. 
6) Glazed or sash doors. 
7) Sliding doors. 
8) Flush doors.
9) Collapsible doors. 
10) Revolving doors. 
11) Swing doors. 
12) Rolling steel doors. 
13) Louvered doors.
Recommended Dimension for Window
Standard casement window sizes-Casement windows are the most popular style of window for UK homeowners. However, as properties vary so widely in terms of design and age, the industry does not specify a standard size for them. But in spite of this, those who manufacture ready-made windows offer them in a range of set sizes. We've listed some common standard sizes for single casement windows in various.
Tilt & turn window sizes

Standard sash window sizes

Standard bay window sizes

Standard window sizes by room

Bathroom windows

Living room windows

Kitchen windows

Bedroom windows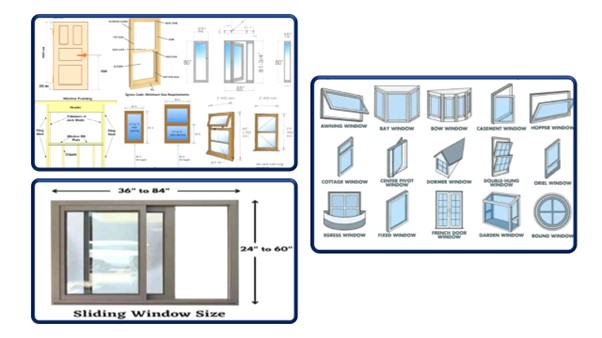 The common types of windows used in the building are as follows:
1) Casement or ordinary window.
2) Glazed or sash windows.
3) Louvered window.
4) Pivoted window.
5) Corner window.
6) Metal window.
7) Double-hung windows.
8) Gable windows.
9) Dormer window.
10) Bay window.
11) Clerestory window.
12) Lanterns or lantern lights.
13) Sky light.
14) Sliding window.
15) Circular window. 
Door Window Layout Certification Training
About Door Window Layout Certification Training in Indore at Tech Cluster