CATIA Training Institute in India
CATIA is the short form of Computer Aided Three-dimensional Interactive Application.This application software is highly useful to the engineers, architects and all the folks who design machineries, structures, etc. It comprises of all the three important aspects of designing software: CAD, CAM and CAE.
This course is very beneficial for the engineering/ diploma students as it can help you to build your career in various fields. Catia is not only useful for students but also a very powerful software used by professionals in Automobile Industries for surfacing body shapes of all kinds of vehicles.
Choose one of the best Catia training centers in Indore to enhance your skills and career.
Tech Cluster  is an institute in Indore with highly professional faculties with many years of industrial experience. To learn any tool it's important to get your basics clear, which is why we are here to on-board you for the learning journey of Computer Aided Three-dimensional Interactive Application.
Applications
 For Mechanical Engineering: The use of CATIA enables the creation of 3D parts, provides technology for mechanical surfacing and provide tools for completing the product definition, which includes functional tolerance and kinematics definition.
Design: Allows creation and modification of complex and innovative shapes and supports multiple stages of product design.
For System Engineering: The CATIA is a proficient software which provides an open systems engineering development platform that enables simulation, modelling, business process support and verification.
For Electrical Systems: CATIA provides solution for designing and manufacturing of electrical systems widely used across various industries. It includes the complete process that starts right from the top of conceptual designing up to complete manufacturing capabilities.
Fluid systems: CATIA offers solution for designing and manufacturing complete layout for tubing, piping and Heating, Ventilating and Air Conditioning (HVAC)systems.
 Introduction of CATIA
Sketcher
Part Modelling
Editing
Surface Design
Assembly Design
Drafting & Drawing
Geometric Dimensioning And Tolerances
25 Hours Theory
25 Hours Practical
20 Hours Project work
 CAD/CAM/CAE Product cycle
Parametric Technology
Introduction to CATIA Environment & Menu bar and Use of Mouse
 Profile Toolbar :- Different Types Of Profiles With CATIA Interface, Concept Of Parametric To Draw  Profiles Like Line, Rectangle, Circle, Etc
Operational Toolbar:- Sketching Techniques, Scaling, Copying, Moving, Rotating, Transfer, Offset, Etc.
 Constraints:- Definition, Dimensional Constraints Like Linear, Align, Geometric Constraints Like  Horizontal, Vertical, Tangent, Etc With Respect To ISO Constraint, Under Constraint Or Over Constraints  Geometry.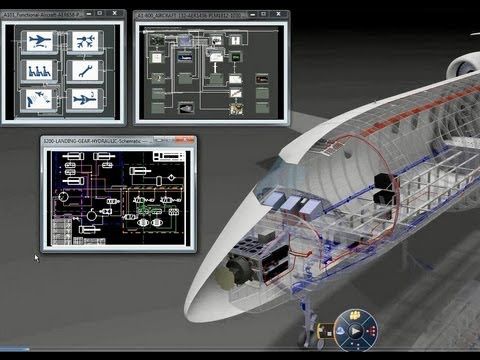 Understanding Part Design Environment
Creating Solid Models using Sketch-Based Features
Working with Dress-Up Features
View Toolbar
Creating & Working efficiently on Reference Elements Planes and lines & points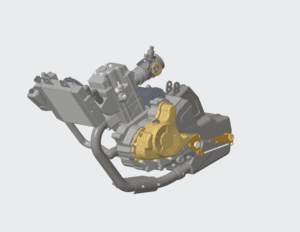 Updating Features
Transformation Features e.g. Patterning, Rotating
Advanced Modeling Techniques e.g.
Boolean Operations, Annotations, Assigning Materials & Measuring Properties.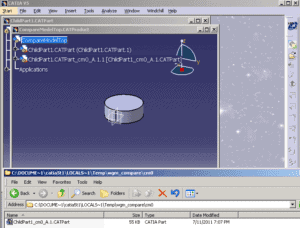 Creating Wireframe elements e.g. helix, splines, Curves, etc.
Creating Surfaces like blended, lofted surfaces, etc.
Operations on Shape Geometry e.g. Joining, splitting & trimming.
Advanced Task in which Surface Operations like Healing, Extracting, etc.
 Solidifying Surface Models:- Adding Thickness To A Surface Creating A Solid Body From A Closed  Surface Body, Sewing A Surface To A Solid Body
Advance Shape Morphing Tools, Sweep With Total 28 Types Of Sweep Profile, BIW Features Etc
Bottom Up Assembly With Detail Explanations
Top Down Assembly With Detail Explanations
➢ For Bottom Up Assembly
Assembly Constraints:- Static Constraints Like Mate, Align, Insert Etc Working With Package & Flexible  Components With Exploded Representation As Per X, Y, Z Direction. Open Components In Separate  Window For Constraint Creation,
➢ For Top Down Assembly
Assembly Constraints :- Static Constraints Required Mainly The Ref. Along Surfaces, Along Plane, Mainly  It Is Use For Large Assemblies In Which Small Components Will Not Be Assembled By Constraints Easily.
Introduction To Drafting, Drawing with Or Without Template, Formats, Placing General, Projection,  Auxiliary, Prospective Views, Placing Dimensions, Overwriting the Dimensions, Etc
Types Of Drafting:-
a) Generative Drafting with Detail Explanations – By Placing the Orthographic Projections in Sheet with Isometric View Which Is Mainly Use For Production In Manufacturing.
b) Interactive (Detail) Drafting with Detail Explanations- By Placing the Whole Assembly with Exploded View by Creating Bill Of Material And Balloons Due To Which We Easily Assemble The Assembly In Assembly Line In Manufacturing
Geometric Dimensioning And tolerances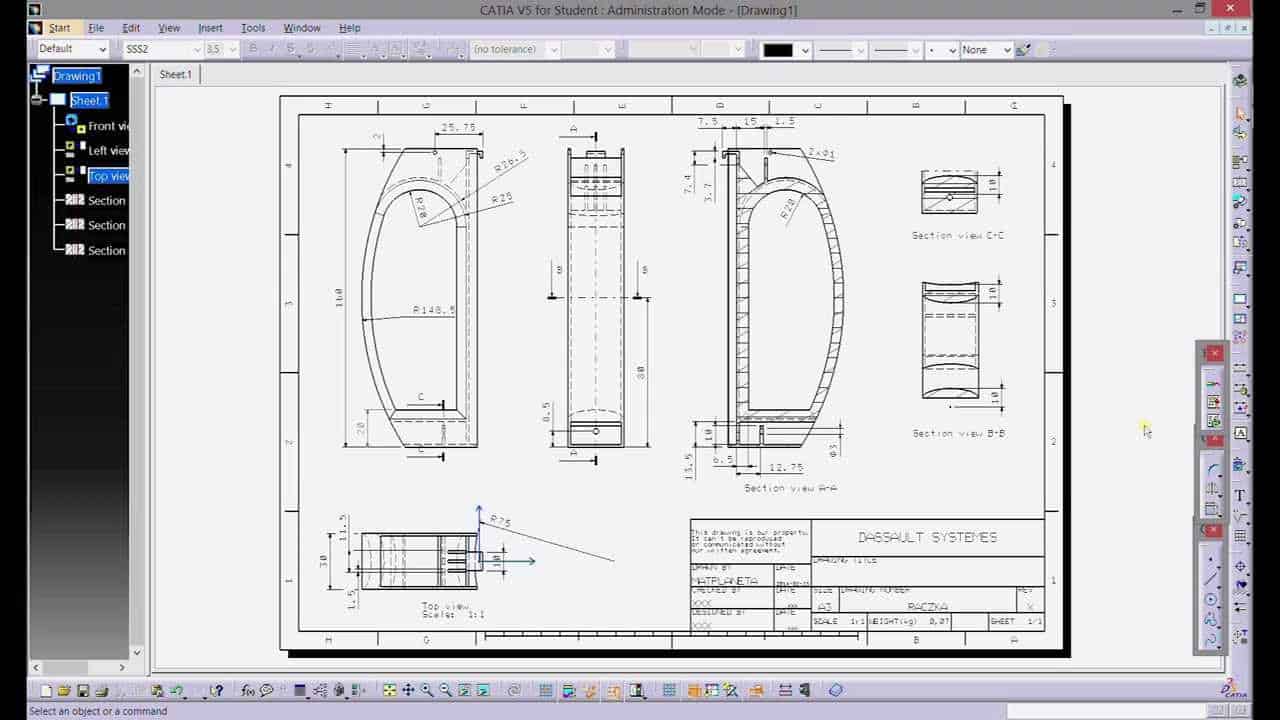 TECH CLUSTER Institute of Design Includes Fundamentals and Advance Concepts of Geometric  Dimensioning and Tolerances In Accordance With ASME Standards.
Introduction
 What Is GD&T?
 Why Should GD&T Be used?
 Feature Control Frame
 GD&T Symbols/Meanings
 Maximum Material Condition (MMC)
 Regardless Of Feature Size (RFS)
 Different types of tolerances
 Conversion Charts
CATIA Certification Training
About CATIA Certification Training in Indore at Tech Cluster