Jigs and Fixture Design Training in India
Creo is a family or suite of design Software developed by Parametric Technology Corporation (PTC) in 2011 which supports product designing at various level across many fields/industries. Creo is an effective 
Computer Aided Design tool 
used to create, analyze, view, and share designs downstream using 2D CAD, 3D CAD, parametric and direct modeling capabilities. One can use Creo to perform various designing activities such as: 3D Design, Industrial Design, Concept Design, Routed Systems Design, and Simulation. Creo is a design software which is specially designed for Automobile Industries.
Tech Cluster
 is an institute which provides 
Creo/Pro-E training in Indore
 and offers chances to avail a great opportunity to learn the tool from basic to advanced level. Our expert faculties cover all the important factors of 
Creo Parametric Training
 for beginners and intermediates. With our expert guidance students can excel in their career and earn good. After which you can find good opportunities in MNC Industries like Eicher and other automobile industries.
Jigs and Fixture Design Foundation :
What Is Jig & Fixture Design?
Jigs vs. Fixtures: What's the Difference?
Types of Jigs and Fixtures
Jig Construction
Fixture Construction
45 Hours Theory
45 Hours Practical
20 Hours Project work
What Is Jig & Fixture Design?
Jigs and fixtures are manufacturing tools that are used to produce identical and interchangeable components. These work holding and tool guiding devices are designed for use in the machining and assembly of parts.
To get the greatest benefit from jigs and fixtures, a basic understanding of their construction is necessary. Jigs and fixtures are identified one of two ways: either by the machine with which they are identified or by their basic construction. A jig, for instance, may be referred to as a "drill jig." But if it is made from a flat plate, it may also be called a "plate jig." Likewise, a mill fixture made from an angle plate may also be called an "angle-plate fixture." The best place to begin a discussion of jig and fixture construction is with the base element of all work holders, the tool body.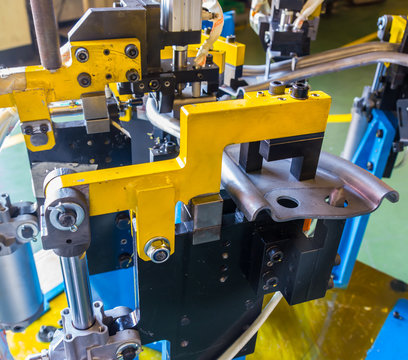 Jigs vs. Fixtures: What's the Difference?
While jigs and fixtures work together, these are two distinct tools used in mass production processes. The two terms are often used incorrectly as synonyms but serve different purposes.
A jig controls and guides the cutting tool to work at a predefined location on a workpiece. Fixtures are used for supporting and locating a workpiece. Fixtures do not guide the tool on a workpiece like a jig.
Jigs are typically lighter than fixtures, which need additional force to stand up to cutting force and vibration. While fixtures require clamping and accessories, a jig can be held or fixed to a table depending on the application.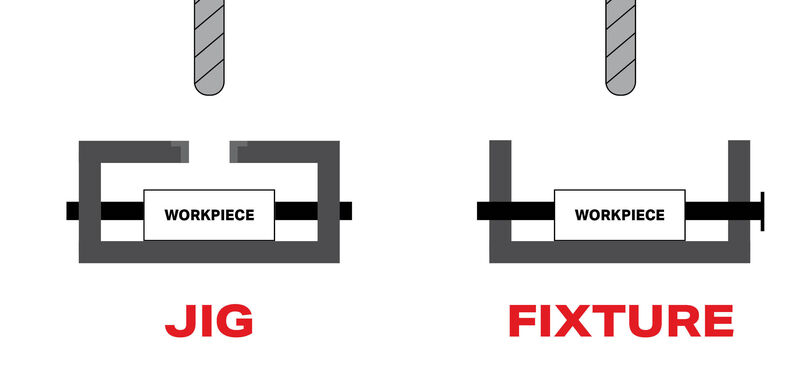 Types of Jigs and Fixtures
Template Jig
Plate Jig
Channel Jig
Diameter Jig
Leaf Jig
Ring Jig
Box Jig
Turning Fixtures
Milling Fixtures
Broaching Fixtures
Grinding Fixtures
Boring Fixtures
Tapping Fixtures
Duplex Fixtures
Welding Fixtures
Assembly Fixtures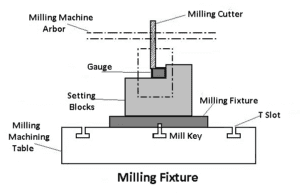 A jig is a type of custom-made work holding device that is used to control the location and speed of parts and other equipment. In the CNC machining process, a jig often locates the workpiece in an appropriate position and cutting tool. Guides to maintain the correct relationship between operation, work, and cutter. When the jig moves, the instrument remains stationary. The machining part is usually secured to the jig by clamping.
The most common jigs are drill and boring jigs. These devices are basically the same. The difference lies in the size, types, and placement of drill bushes. Boring jigs usually have large bushes. These bushes may also have internal oil grooves to keep the boring bar lubricated.
The fixator is a work-holding device used to safely locate, support, and mount the machine in a safe position, to ensure that the workpiece fixed in the fixture maintains conformity and interchangeability can.
When the fixture moves, the instrument moves relative to the part. The fixtures can ensure that the part is stable, simplifying the mounting of the workpiece so that a quick transition from part to part and smooth operation can be realized.
What distinguishes the jig does not guide the instrument.
Jigs and Fixture Design Certification Training
About Jigs and Fixture Design Certification Training in Indore at Tech Cluster