Furniture Design Training in India
Furniture design falls under the umbrella of industrial design, which is concerned with the manufacture of consumer goods. Furniture design, as part of the consumer goods industry, can include concepts like production, assembly, and packaging. It can discuss marketing and trends in addition to manufacturing ideas. Furniture design is a specialized field that combines utility and style. Furniture is considered by many interior designers to be one of the most significant parts of any interior space. It adds not only functionality and utility to a space, but also style and personality. Furniture has evolved and altered over time, with certain styles remaining relatively stable over time while others have significantly changed or become obsolete.
Tech Cluster is an institute which provides Furniture Design Training  and offers chances to avail a great opportunity to learn the tool from basic to advanced level. Our expert faculties cover all the important factors of Furniture Design Training for beginners and intermediates. With our expert guidance students can excel in their career and earn good. 
Furniture Design Foundation :
Learning about manufacturing
Learning material qualities and limitations
Introduction to ergonomics
Introduction to orthographic drawing
Technical production drawing
Creating a general arrangement drawing
Creating a 3D sketch model
45 Hours Theory
45 Hours Practical
20 Hours Project work
Learning about manufacturing
Industries in the Furniture and Related Product Manufacturing subsector make furniture and related articles, such as mattresses, window blinds, cabinets, and fixtures. The processes used in the manufacture of furniture include the cutting, bending, moulding, laminating, and assembly of such materials as wood, metal, glass, plastics, and rattan. However, the production process for furniture is not solely bending metal, cutting and shaping wood, or extruding and moulding plastics. Design and fashion trends play an important part in the production of furniture. The integrated design of the article for both aesthetic and functional qualities is also a major part of the process of manufacturing furniture. Design services may be performed by the furniture establishment's work force or may be purchased from industrial designers. 
Learning material qualities and limitations
Woods:

  Solid, Plywood, Veneer, Hardboard, Particle Board, Composite wood, etc.

Metals:   Steel, aluminum, copper, brass, bronze, iron
Glass
Plastics
Bamboo
Marble
Cane
Fabric
Leather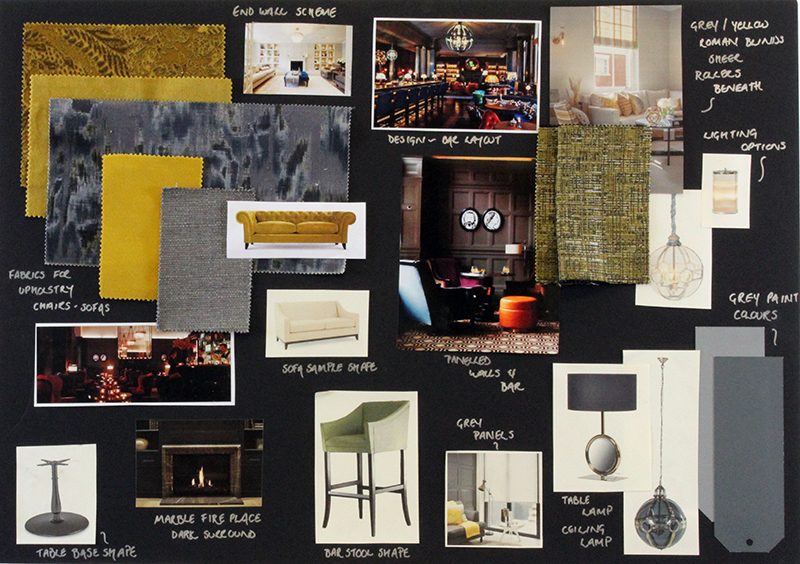 Introduction to ergonomics
Ergonomic furniture means furniture that has been designed to support function and comfort for human use, reducing the risk of musculoskeletal problems, joint pain, back issues, neck pains, arthritis, restricted organs and poor blood pressure.In order for a piece of furniture to be considered ergonomic, it must:
Not restrict but further enhance natural movement and flow of the human body
Support natural S posture of the spine rather than forcing it into a C shape
Be easily adjusted to accommodate a diverse range of people
Encourage more physical movement during the day where possible
Put usability ahead of aesthetic or convenience
Reduce stress of joints, bones and muscles
Introduction to orthographic drawing
 An orthographic projection is a way of representing a 3D object by using several 2D views of the object. Orthographic drawings are also known as Multiview's. The most commonly used views are top, front, and right side. You can imagine it as positioning yourself directly in front, above, or to the right of an object and drawing only what you can see.
Technical production drawing
Furniture manufacturing, has always remained sensitive to price fluctuations, customer demands, and a fiercely competitive environment. Amidst this competition and instability, furniture manufacturers need to even deal with skill gaps without compromising on efficiency. While investing in the augmentation of fabrication and woodworking capabilities might sound a right step forward, furniture manufacturers need to give a fresh look to their existing design processes and technologies. They need to strengthen the process of developing the drawings to help to fabricate the finished product – documents that form a single source of truth to communicate the concept. Many times, CAD engineers also create comprehensive 3D CAD models created to suite the CNC machine needs on the factory floor as well. Select the appropriate manufacturing processes, determine the inconsistencies, and eventually turn that concept into a tangible furniture item.
Creating a general arrangement drawing
 General arrangement drawings (GA's) present the overall composition of an object such as a building. Depending on the complexity of the building, this is likely to require a number of different projections, such as plans, sections and elevations, and may be spread across several different drawings. They may be referred to as 'location drawings' as they show the location of various components and assemblies within the overall design, but this can be confused with location drawings indicating the geographical location of the building. General arrangement drawings are likely to be prepared at each stage of development of a building design, showing the overall relationship between the main elements and key dimensions. The level of detail will increase as the project progresses and they may need to be supplemented by more detailed drawings, showing specific elements and assemblies
Creating a 3D sketch model
 Creating a 3D model is similar to making a new 2D drawing in a CAD program. The main difference is that some additional steps are required, and a few more parameters must be defined. With 3D modelling systems, you still begin by defining a flat 2D profile. However, once it has been created, you define the third dimension. This can typically be achieved with a few more clicks using the appropriate tools, resulting in a complete 3D model. Regardless of the industry, the process remains generally the same. While it's beneficial to have at least some specific dimensions with the rough sketch, it's not actually necessary since things can be defined and changed during the creation of the 3D model.
Furniture Design Certification Training
About Furniture Design Certification Training in Indore at Tech Cluster