Interior AutoCAD Training in India
AutoCAD is a versatile and most ubiquitous commercial Drafting & Modeling software tool developed and marketed by AUTODESK since 1982. AutoCAD is an essential tool for High School Students, Technical Students, Draftsmen, Diploma Engineers, Mechanical, Automobile Engineers, and Corporate Managers and is used by over 10 million users worldwide.
Tech Cluster is an institute which provides AutoCAD training in Indore and offers chances to avail a great opportunity to learn the tool from basic to advanced level. Our expert faculties cover all the important factors of AutoCAD Training for beginners and intermediates. With our expert guidance students can excel in their career and earn good. After which you can find good opportunities in MNC Industries.
AutoCAD User Interface & Capabilities
Navigating the working environment
Working with files
Displaying objects
Co-ordinate system
Creating basic shapes
Using object snap
Creating special shapes
Using Polar Tracking and Polar Snaps
Modification of Objects
Creating Different Types of Lines
Creation Of Plan, Elevation, Section View
Apply Hatch & Gradient
Use Of Text, Mtext & Layers
Object Creation & Modification
Creating Object Pattern
Trimming and Extending Objects
Object Property Tools
Create Foundation Plan of Structure
Draft Structural Drawing
Structure Planning
Creating Centre Line Plan
Architectural Plan
Furniture Layout
Door Window Staircase Details
Draft Complex Structures
Printing Plotting
Units & Drawing Creation
Creating Section Line
Creating Dimensions
Modify Dimensions
Dimension Style
3D Modelling & Visualization
Introductions to 3D
Working in 3D
Creation of 3D door, window, staircase, railing
Creating Solid Primitive
Solid Model Creation from 2D Profile
Creation of 3D model from plan
Use of user coordinate system
Object Creation
Modification of Solid Models
Editing Solid Models
Elevation modelling
Interior modelling
Creating interior accessories
Applying Material & texture
Using Material
Modify Material
Adding Lights and camera
Applying animations
Creation of walk through
Surface Modelling
Using Light
Using Render Settings
Rendering 3D objects
Exterior rendering
Interior rendering
Motion Path Animation
Plotting Viewport & Sheet Manager
AutoCAD Productivity Tools
Blocks And Dynamic Blocks
Using Blocks & Block Editor
Standard Library & Attributes
Object Selection Method & In ternate Features
Slide Show
Animation 2D & 3D
Customization of AutoCAD
Object Grouping
Linking File (external reference)
Customization Of Screen
Tool Palette and Design Center
Licensing For Drawing
Contract And Tendering
Estimation And Costing
Building Design With 3D Printing
60-hour theory
30-hour practical
50-hour project work with 2 case study
Foundation Technical Features:
Understanding AutoCAD User Interface
Whether you just started using AutoCAD, or you are already an experienced user, you are likely not fully aware of all user interface elements. The same applies to AutoCAD commands. Let us review the user interface elements in AutoCAD as well as some AutoCAD commands that can give you a shortcut that will improve your workflow. AutoCAD Interface
Application Menu
Quick Access Toolbar (QAT)
Ribbon
In-Editor elements
Status Bar
File Tabs
Layout Tabs
Drop-Down Menus
Toolbars
Command Line
The Hatch command in AutoCAD is used to fill patterns inside an enclosed area. The patterns are hatched, gradient, and solid fill. The gradient patterns are defined as a smooth transition between two colors. There are several hatch patterns available in AutoCAD. We can choose the desired pattern from the list of patterns according to the requirements. The number of hatch lines represented in any pattern can be adjusted with the help of the Hatch Pattern Scale. The Hatch Pattern Scale signifies the spacing between the lines in a particular pattern.
Use Of Text, Mtext & Layers
There are two kinds of text that can be used in AutoCAD:  Multiline and Single Line.
You have more control over the appearance of Multiline Text and if you move the text, multiple lines stay grouped together. Single Line text is useful for writing out a collection of notes; each return creates a separate entity. This is useful for writing out multiple single line notes, such as room names, that can be moved around the screen independently from each other.  
Multiline text
Style
Annotation scale
Formatting
Background mask
Paragraph
Insert
Inserting symbols
Spell check
Layers are the primary method for organizing the objects in a drawing by function or purpose. Layers can reduce the visual complexity of a drawing and improve display performance by hiding information that you don't need to see at the moment.
Before you start drawing, create a set of layers that are useful to your work. In a house plan, you might create layers for the foundation, floor plan, doors, fixtures.
Object creation (door, window, furniture)
There Are Many Commands in AutoCAD (Like: Line, Circle, Arc, Fillet, Move, Scale, Rotate, etc.) Which is Used to Creta Objects (Like Door, Windows, Furniture Etc.)
2d Objects
3d Objects
Drawings
Blocks
Geometries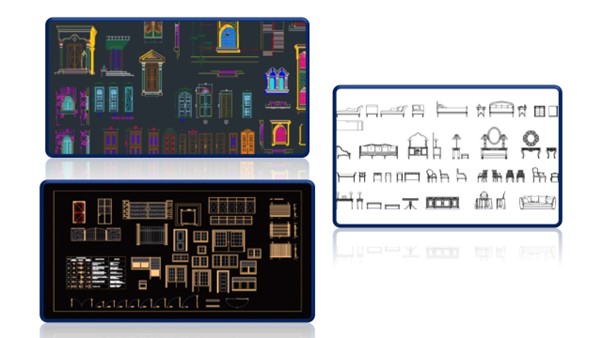 In AutoCAD, the user is accessible to create a drawing using two types of spaces. The model space and layout space. The model space consists of the 3D dimensional objects created by the user. To view it in a 2D dimensional structure, the user will have to use the Layout tab.This layout tab can be used to see different 2d views of the 3d object created by the user in the model space. Also, the user can add as many numbers of views to the layout and modify the size of the sheet as well. The layout space is also known as paper space and is generally used to specify the minor details of the model created. A layout can never be 3d dimensional, as it is only referred to as a paper that shows and edits various elements of the model as per the requirement of the user.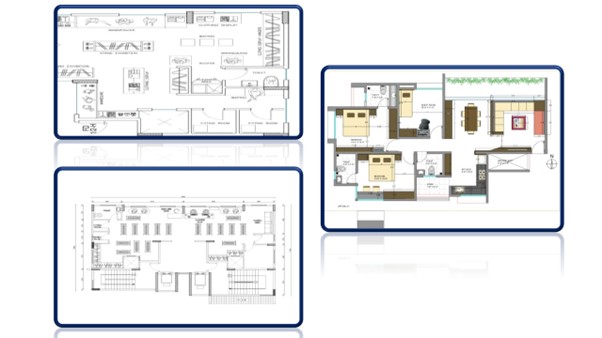 Furniture & Selecting & Sourcing Furnishings
Contains the categories where furniture objects can be selected:
Block Reference
insert Block
Interior design solutions don't stop at creative ideation and slick 3D renderings. Bringing the entire vision to life requires several more months of hard, hands-on work. Once designs are reviewed and approved by the client, the next step is to find, customize, and purchase new items like furniture, accessories, drapery, appliances, flooring, fixtures, etc.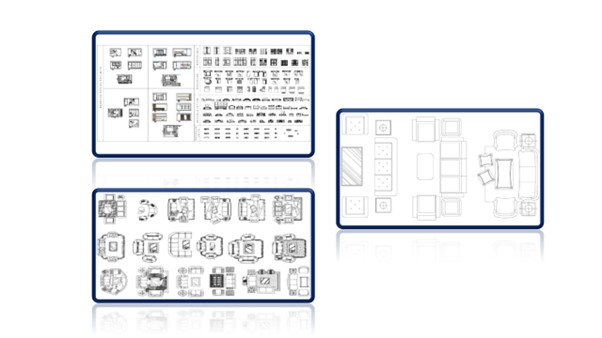 Multi-View Block Reference
AutoCAD has a small library of some standard blocks that you can use in your drawings, this library of blocks can be accessed from the design centre palette. To open the design canter, you can use the keyboard shortcut CTRL + 2 or you can use the command ADCENTER. The design centre is simply a palette just like the properties or layer properties manager palette. On this design centre palette click on the home icon then select the en-us folder then the Design Center folder and then select the drawing type from which you want to extract the blocks. we can use the kitchen drawing file for kitchen blocks and House Designer drawing for common household blocks. After selecting the drawing select Blocks from the object type and now you have a collection of blocks that you can insert into your drawing by simple drag and drop.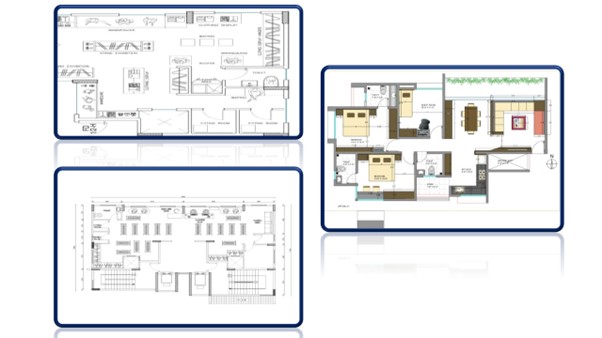 You can create any plan or draw with the help of AutoCAD the final Output of your drawing layout to a printer, a plotter, or a file is known as printing & plotting You can Save and restore the printer settings for each layout. Originally, people printed text from printers and plotted drawings from plotters. Now, you can do both with either.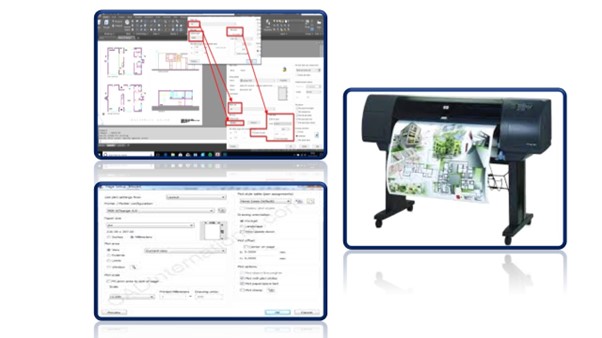 Advanced Technical Features:
AutoCAD Architecture is an on-premise solution for architectural design that provides specialized tools to create floor plans, sections, elevations, and other drawings. AutoCAD Architecture is architectural design software. It helps users design and draft industry-specific designs. AutoCAD Architecture's features include architectural renovations; wall, door, and window design documentation, and room documentation.
Design concepts and space planning
The types of spaces in a specific home or building, generally fall into 4 categories:
Social (living room or dining area)
Private (bedroom)
Work (home office)
Storage (closet, shelving, etc.)
Each of these categories will have implications for the home design, layout, furniture placement, and design of the finished room or area.the interior designer will need to consider things for an interior space like storage (both open and closed options), tablespace, lighting, cleaning needs, areas, sleeping arrangements, bathing, access to other rooms, interior and exterior entrances, and much more.
Creation of 3D Model from Plan
The 3D interior design process calls for careful planning of the design so that the inner space of the house provides a perfect replica of the real-life structure in 3D, that is, height, width, and depth. 
Simply put, whether you are planning to build a residential or commercial structure, 3D interior design can provide you with a lifelike visualization of its interior spaces with a picture-perfect positioning of all your preferred details from various angles even before you begin constructing it.
Materials, Finishes & Fixtures Selection
Each Texture Type Has a Unique Set of Controls, Or Channels, That Adjust Such Properties as Reflectivity, Transparency, And Self-Illumination. Within Each of These Channels, You Can Assign, Hide, Or Delete a Texture. When You Assign Textures to A Material's Colour, The Texture Colours Replace the Material's Diffuse Colour.
Wood Texture
Wall Paints
Floorings
Ground Texture
Metal Materials
Sustainable Design and Technology
Sustainable interior design is based on the sustainable design principles and strategies common to the built environment as a whole, namely providing physiologically and psychologically healthy indoor environments. Creative ideas require interior designers to have a new vision in designing elements of interior spaces, by adopting modern methods that connect them with elastic fabric, through which these elements can be linked together with future development possibilities.
Default lighting is derived from one or two distant light sources that follow the viewpoint as you orbit around the model. All faces in the model are illuminated so that they are visually discernible. You can adjust the exposure of the rendered image, but you do not need to create or place lights yourself.
The Camera tool is located in the Camera panel on the Visualize ribbon. The Camera panel contains only two tools: Create Camera and Camera Display. You use the Create Camera tool to create and place cameras into the drawing, and the Camera Display tool to toggle the visibility of camera glyphs on and off.
Thesis builds the most powerful and flexible tools for anyone to create and publish a 360° Virtual Tour. Whether you are a Real Estate Agent, 360° photographer, web designer, hotelier or travel agency, Thays' Application with its unmatched functionality, ease of use and professional approach helps you create the most beautiful & elegant panoramic tours for your users.
Blocks And Dynamic Blocks
A variety of controls and behaviours are available for adding flexibility and efficiency of working with blocks. Some examples of how you could use dynamic blocks include the following:
Automatically align a block to the geometric objects that represent a wall or a pipe
Create additional movement grips on a block
Add multiple insertion points so you can cycle through them by pressing Ctrl when inserting a block
Choose whether a block is flipped or mirrored when inserted
Control the size or shape of a block to standard increments such as the length of a fastener or width of a door
Display a family of parts or similar styles in a tabular format to choose different versions of the same block.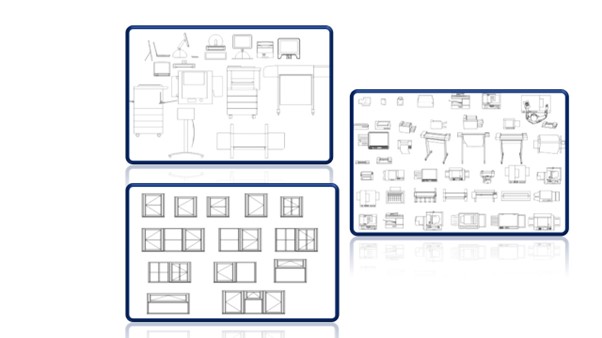 Tool Palette and Design Center
AutoCAD Tool Palettes puts your commonly used blocks at your fingertips. Instead of endless searching, you can create palettes and palette groups for each set of blocks. Press Ctrl+3 or type command TOOLPALETTES to open the Tool Palettes.
There are 2 ways to use the Design Centre to add blocks to a tool palette:
Drag the block to the palette tab.
Convert a folder to a palette tab.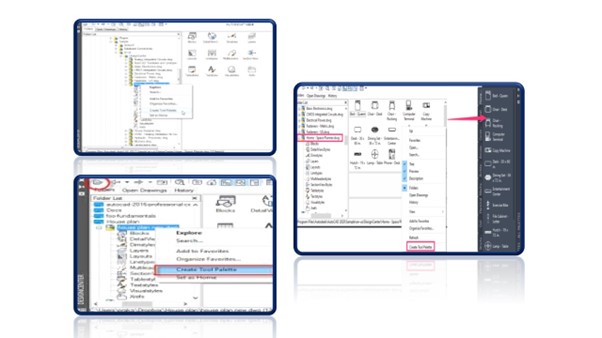 Creating interior accessories
This is a great selection of AutoCAD symbols for interior design accessories to spice up your interior elevation drawings. If you want to save time creating your design drawings, and at the same time make your designs look more professional, then make sure you check out all the CAD block libraries that are available in this beautiful set of interior design CAD symbols.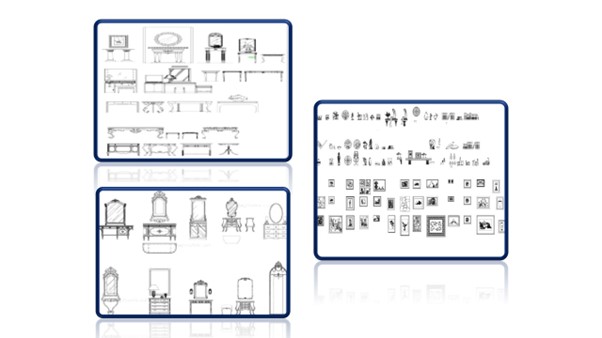 AutoCAD Productivity Tools:
Blocks And Dynamic Blocks
Using Blocks & Block Editor
Standard Library & Attributes
Object Selection Method & In ternate Features
Slide Show
Animation 2D & 3D
Customization of AutoCAD
Object Grouping
Linking File (external reference)
Customization Of Screen
Tool Palette and Design Center
Estimation And Costing
Building Design With 3D Printing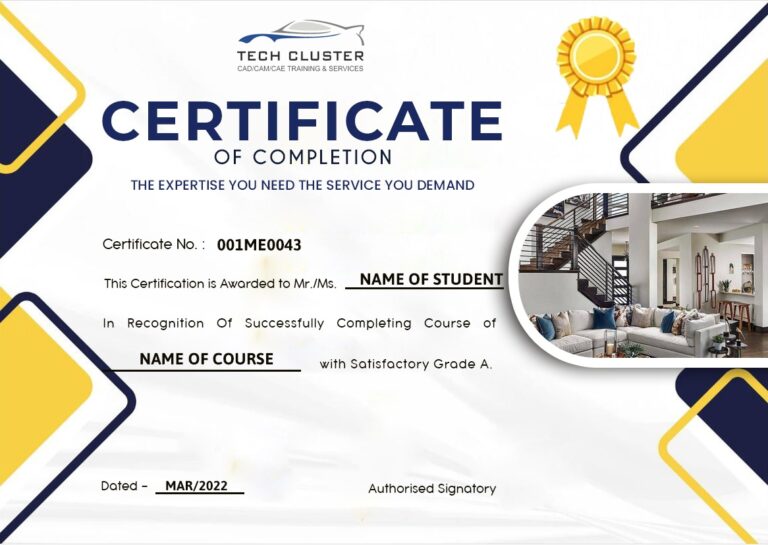 Interior AutoCAD Certification Training
About Interior AutoCAD Certification Training in Indore at Tech Cluster