Illustrator Training in India
Adobe Illustrator is the industry-leading vector drawing program used by professional designers around the globe for digital graphics, illustrations, and typography. If you are an aspiring graphic designer or budding artist, this Adobe Illustrator beginner course online will help you harness Illustrator's powerful design tools to create breath taking works of art.
Adobe Illustrator is a professional vector-based design and drawing program. Used as part of a larger design workflow, Illustrator allows for the creation of everything from single design elements to entire compositions. Designers use Illustrator to create posters, symbols, logos, patterns, icons, etc. Illustrator is used by artists and graphic designers who create logos, icons, charts, infographics, posters, ads, books, magazines, and brochures. Even comic book illustrators use it. It's the industry-standard software application for anyone, anywhere, who wants to work with vector graphics.
• Understanding the Adobe Illustrator workspace and tools
• Creating your own shapes & lines
• Use the pen & curvature tool to improve your designs
• Advance your graphics with strokes, pencils & brushes
• Speed up your workflow with the shape builder tool
• Align and distribute objects to create amazing backgrounds and textures
• Add and stylize text to your projects
• Create beautiful graphics with masks and compound shapes
• Get creative with effects and advanced techniques
• Understand color and how to use it like a pro
• Save & export your projects for any kind of project
• Typography & text effect in illustrator
• Icon and bookmark Design
• Logo Design
• Ingographics Design
• Poster Design
• Sticker Design
• Banner Design
• Flyer & Business Card Design
• Magazine Design
• Vector art / Cartoon Illustrators / Character Design
• Brand Identity Design
• Product Packaging
• Geometric art and shapes
• 3D text and shapes
30 Hours Theory
25 Hours Practical
20 Hours Project work
Understanding the Adobe Illustrator workspace and tools
Adobe Illustrator is the industry-leading graphic design tool that lets you design anything you can imagine – from logos and icons to graphics and illustrations – and customize it with professional-level precision and time-saving features like Repeat for Patterns or Global Edits. You can use the graphics you create with Illustrator in any size digital or print format and be confident they'll look exactly the way you designed them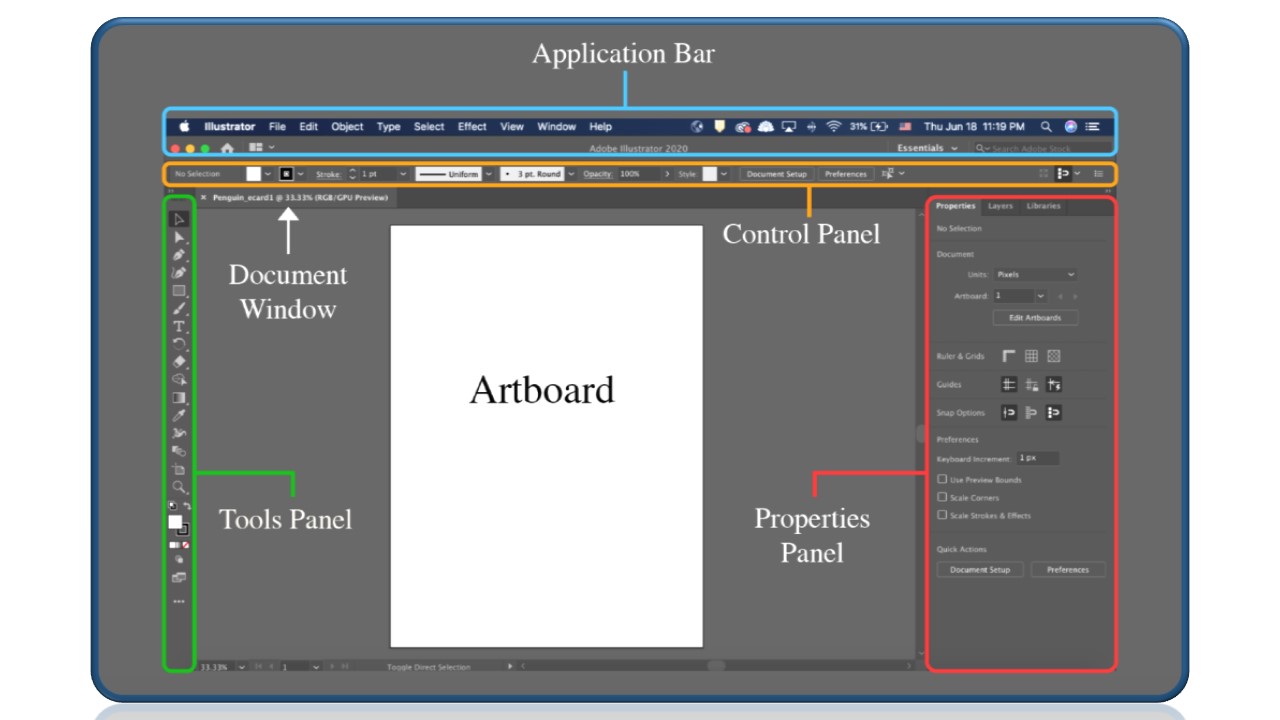 Creating your own shapes & lines
Go over to the toolbar and click on the Rectangle tool. You can hold the mouse down and get a menu of additional shapes Illustrator has built-in. You'll see the Rectangle, Rounded Rectangle, Ellipse, Polygon, Star, and Flare tools.
Use the pen & curvature tool to improve your designs
The simplest path you can draw with the Pen tool is a straight line, made by clicking the Pen tool to create two anchor points. By continuing to click, you create a path made of straight-line segments connected by corner points
Curves are easier to edit and your system can display and print them faster if you draw them using as few anchor points as possible. Using too many points can also introduce unwanted bumps in a curve. Instead, draw widely spaced anchor points, and practice shaping curves by adjusting the length and angles of the direction lines.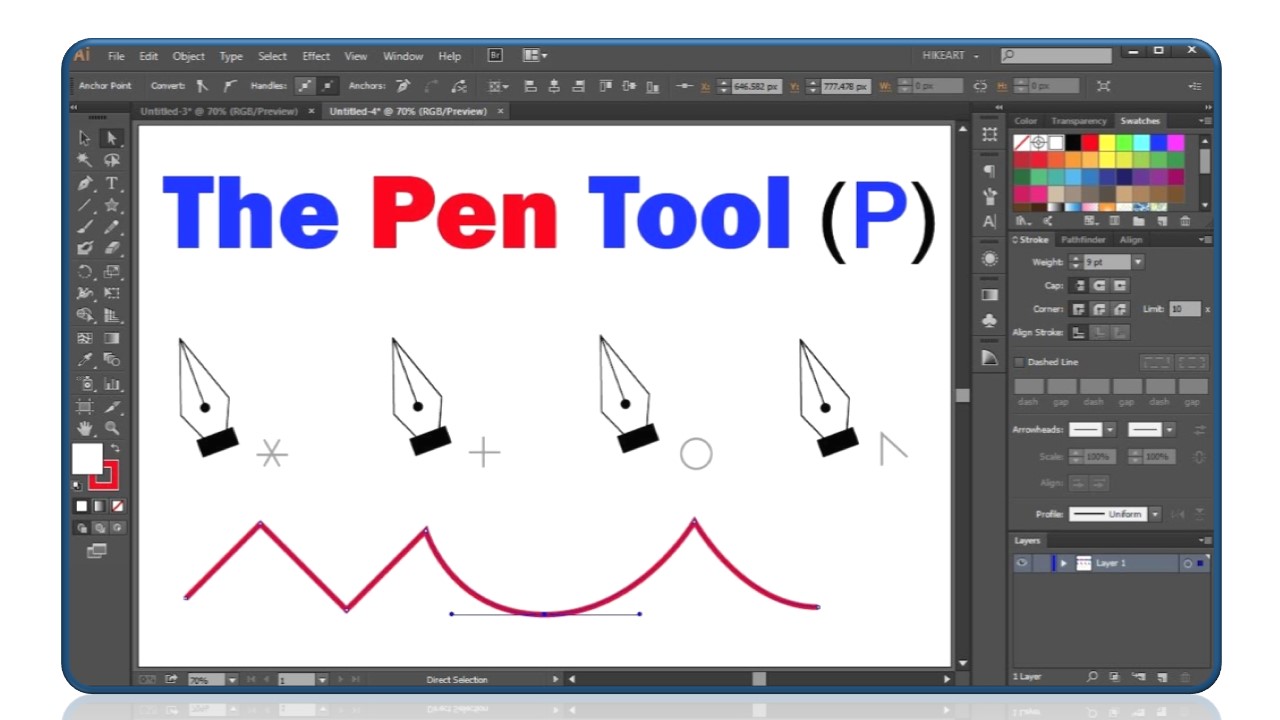 Advance your graphics with strokes, pencils & brushes
Brushes let you stylize the appearance of paths. You can apply brush strokes to existing paths, or you can use the Paintbrush tool to draw a path and apply a brush stroke simultaneously.
There are different types of brushes in Illustrator:
• Calligraphic brushes
• Scatter brushes
• Art brushes
• Pattern brushes
• Bristle brushes
Speed up your workflow with the shape builder tool
The Shaper tool helps you create complex and beautiful designs by drawing, stacking, and placing shapes together, and then simply combining, merging, deleting, or moving them. Use simple, visually-intuitive gestures to perform operations that previously may have taken multiple actions to achieve.
Use the Shaper tool to turn natural gestures into vector shapes. Use a mouse or the ease of a touch device to create polygons, rectangles, or circles. The shapes drawn are live shapes. This feature is enabled in the traditional workspaces, the specialized Touch workspace, and on your mobile with Adobe Fresco.
Align and distribute objects to create amazing backgrounds and textures
You can move objects by dragging them with specific tools, by using the arrow keys on the keyboard, or by entering precise values in a panel or dialog box.
You can use snapping to help you position objects as you move them. For example, you can snap the pointer to guides and anchor points and snap object boundaries to gridlines. You can also use the Align panel to position objects in relation to each other
Add and stylize text to your projects
With the Type tool selected in the Tools panel, click to add new placeholder text to the document. This placeholder text is called point type. With the placeholder text selected by default, type to replace it.
Select the Selection tool in the Tools panel. You will see a box around the text. This is called a text object. Drag a corner of the text object to change the size of the text inside.
Drag the text to reposition it.
Create beautiful graphics with masks and compound shapes
Edit a clipping mask
In the Layers panel, select and target the clipping path. Or, select the clipping set and choose Object > Clipping Mask > Edit Mask.
Do any of the following:
• Move the clipping path by dragging the object's center reference point with the Direct Selection tool.
• Reshape the clipping path using the Direct Selection tool.
• Apply a fill and stroke to a clipping path.
• To select all clipping paths in a document, deselect all artwork. Then choose Select > Object > Clipping Masks
Get creative with effects and advanced techniques
Illustrator has so many tools and features that even long-time users often find there are more things to learn, including time-saving shortcuts that can speed up workflows. Adobe Illustrator video tutorials, in particular, are a great way to find your way around the software or get to grips with specific tools and techniques. And whether you want to design simple icons or complex illustrations, the more techniques and shortcuts you're familiar with, the quicker you'll be able to achieve the results that you're after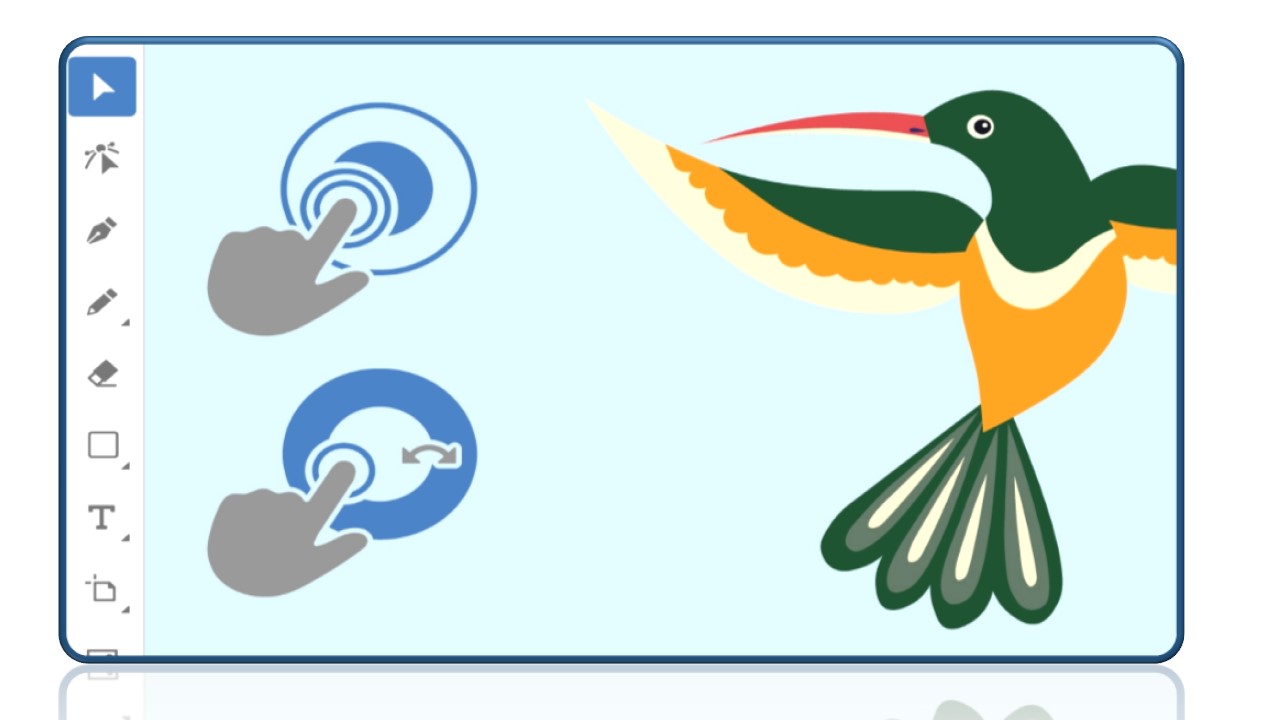 Understand color and how to use it like a pro
Vector artwork in Illustrator can have a stroke (border) and a fill. The fill or stroke can be a color, gradient, or pattern.
Find the fill color and stroke color in the Properties panel to the right of the document. Clicking the fill color or stroke color reveals colors saved in a document, called swatches, by default.
Open the Color Picker by double-clicking the stroke or fill box at the bottom of the Tools panel on the left. Use the Color Picker to create a custom color visually, by entering color values, or by choosing from a library of colors.
Save & export your projects for any kind of project
SAVE– when you save new Illustrator (.ai) and Illustrator EPS (.eps) documents, they are saved in the latest Illustrator version. However, if you choose to save the documents in a lower (legacy) version, you may lose some data because legacy formats don't support all the features in the current version of Illustrator. When you select a version other than the current version, some options for saving aren't available, and certain kinds of data will be changed. Ensure to read the warnings before proceeding
EXPORT– When you export assets from a file using File > Export > Exports for Screens, Illustrator runs the export process in the background by default. It helps you save a lot of time and improves productivity. Choose Preferences > File Handling & Clipboard > Export in Background to turn off background export. As you can continue to work on the file even when the file is being exported, do remember to save or export your latest changes on the file.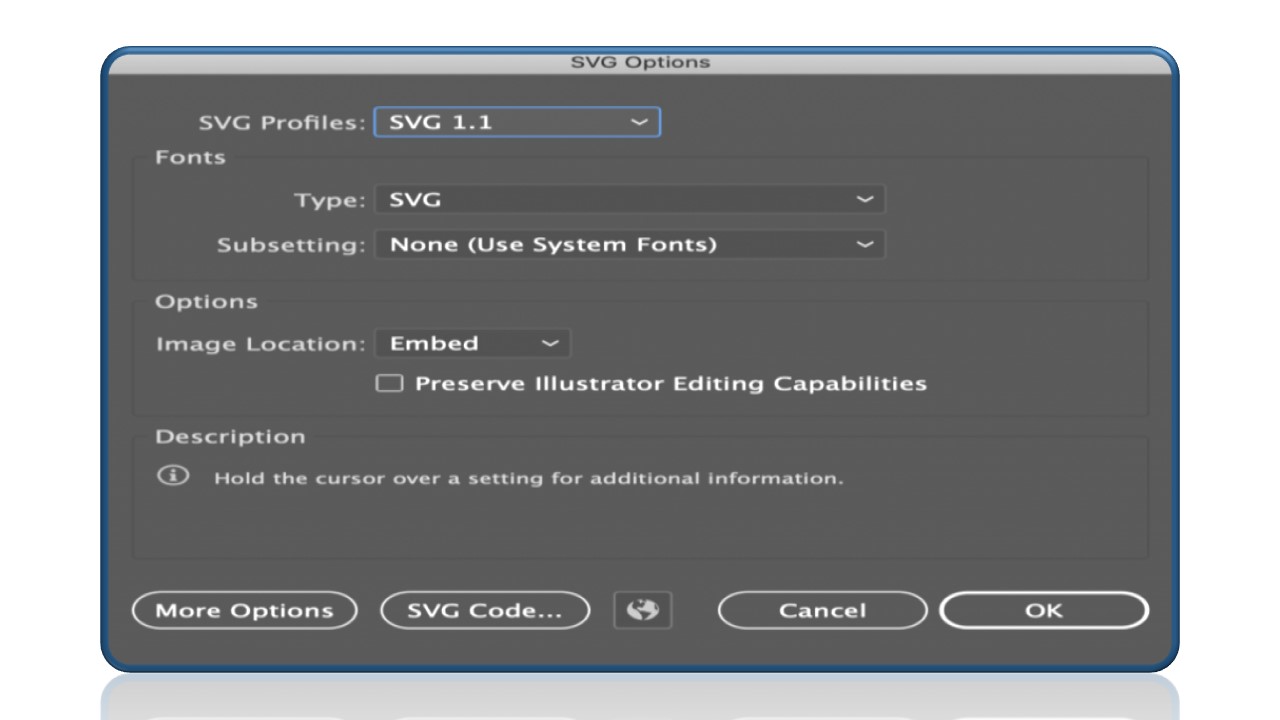 Typography & text effects in illustrator
Typography is not only an all-important aspect of design, it is also an art form in and of itself. Choosing the right font, the perfect spacing and even the correct shape of text can be an important factor as to whether a project fails or succeeds. Although Illustrator is not really used for multiple-paged projects, many would agree that it is one of the most powerful applications for creating vector graphics, such as logos, and it is also often used for one-page documents, such as business cards, posters, or postcards.
the shape tools in Adobe Illustrator to deftly combine vector shapes and design memorable icons for your next digital project.
Shape Winsome Bookmarks with Template.net's Free Bookmark Illustrator Templates for Special Occasions Like Book Day. Our Printable Bookmarks Contain Designs of a Vector Flower, Christmas Tree, Snowflake, and More. Each Bookmark Template Is Customizable in Adobe Illustrator and Adobe Photoshop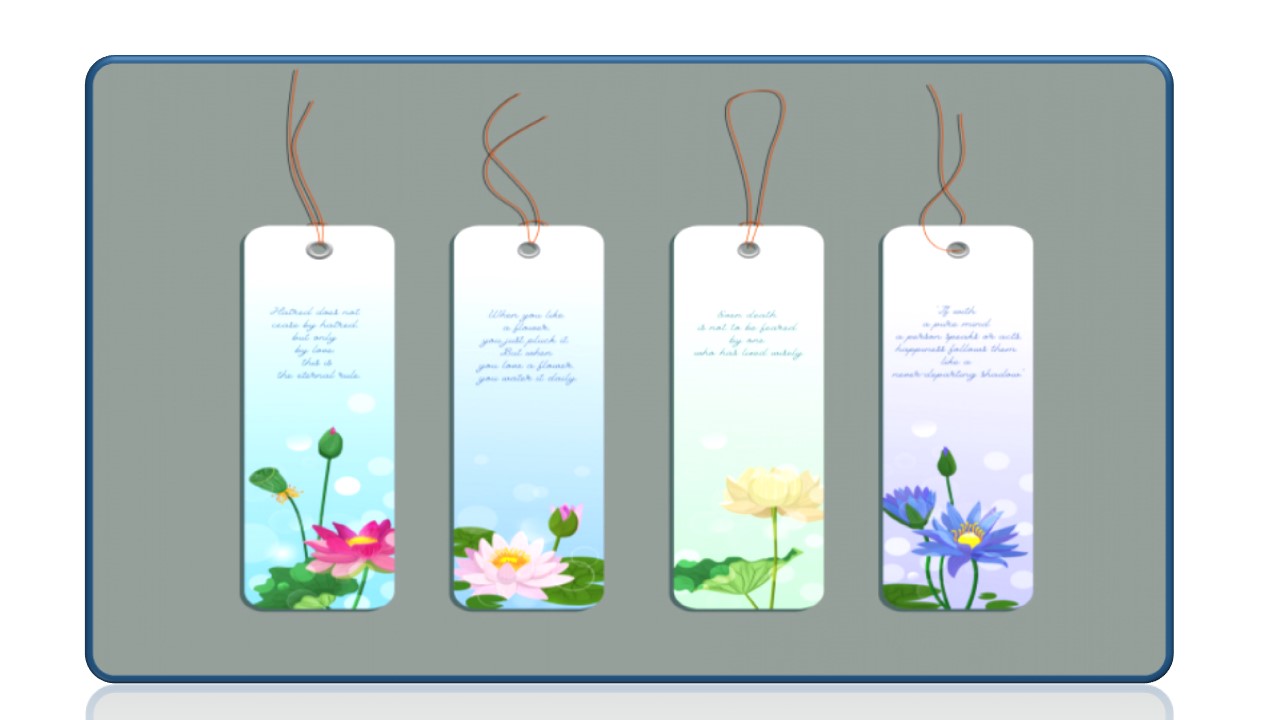 logo idea from the cocktail serviette to a business card with the most versatile vector graphics design software on the market. Discover how Illustrator gives you the flexibility and drawing tools to design logos that make an impression.
Shape your logo creation.
Manipulate and combine geometric shapes with precision. Using the Pathfinder and Shapebuilder tools, make a logo that's a unique and memorable part of your brand identity.
Infographics are graphic visual representations of data, information, or knowledge. Their purpose is to present you with information quickly and clearly. In other words, infographics tell us the story behind specific data or research, and everything should be clear at first glance.
types of infographics you can create:
• Statistical infographics:
• Informational infographics
• Timeline infographics
• Process infographics
• Geographic infographics
• Comparison infographics
• Hierarchical infographics
• List infographics
• Resume infographics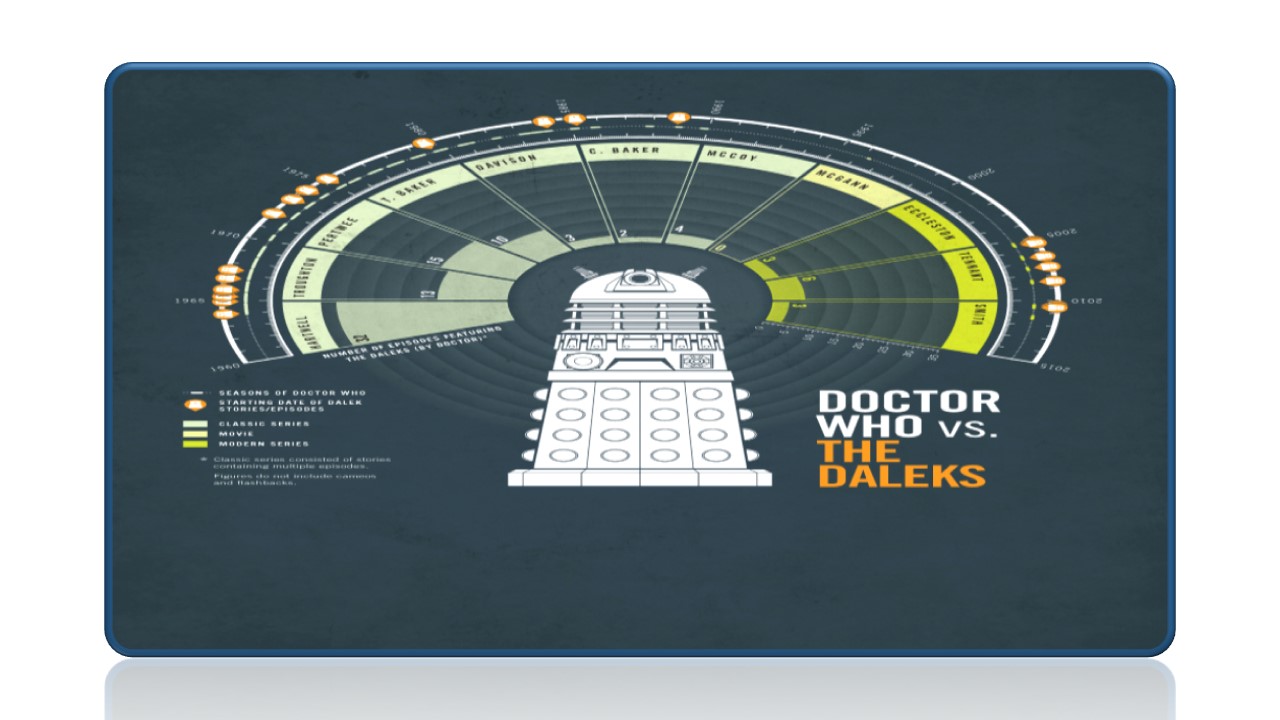 A well-executed poster has the power to grab someone's attention while delivering an important message. Whether you're promoting an event, selling a product, or advertising a movie, your poster's quality is crucial to your venture's success. You can now create sleek and eye-catching posters from the comfort of your own home, using an Adobe Express poster template as the basis for your design. The Adobe Express custom poster maker offers a range of templates and layouts that you can use to create your own posters.
In the world of sticker production, there's no other type of sticker more versatile, designer-friendly, and inspiring than a sticker sheet. Ticking all the boxes when it comes to custom stickers, sticker sheets are diverse in shape and size, having no limitation to the creative process and outcome. It is an excellent alternative to individual custom stickers and an awesome way of getting multiple designs or a design theme in one place, on one sticker sheet.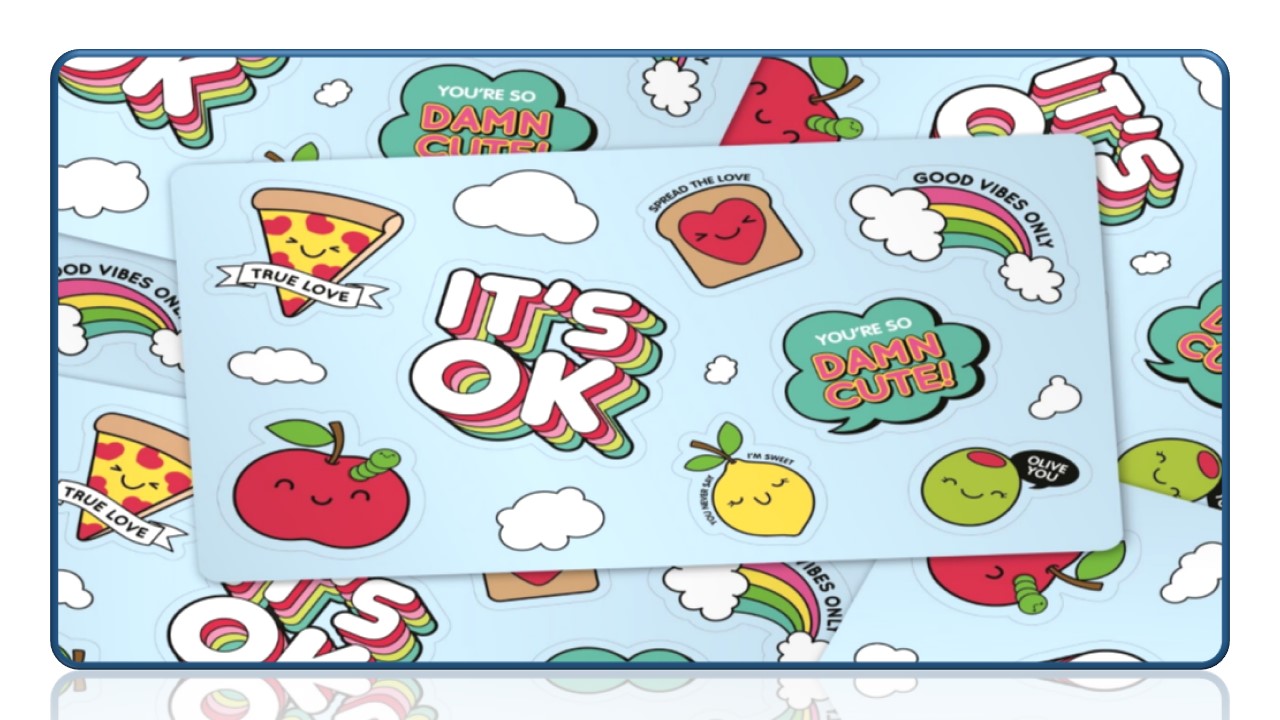 A banner design is a great way to market a company's services or products. These designs not only provide a visual component that targets an audience's purchasing intent, but these banners are also a smart way to raise brand awareness and attract new customers.
The banner is the most visible design element that immediately attracts the attention of all users who visit your website. An attractive banner graphic design should become the author's business card on YouTube, have a well-thought-out design, and reflect the presence of the brand. When creating banner graphic design free.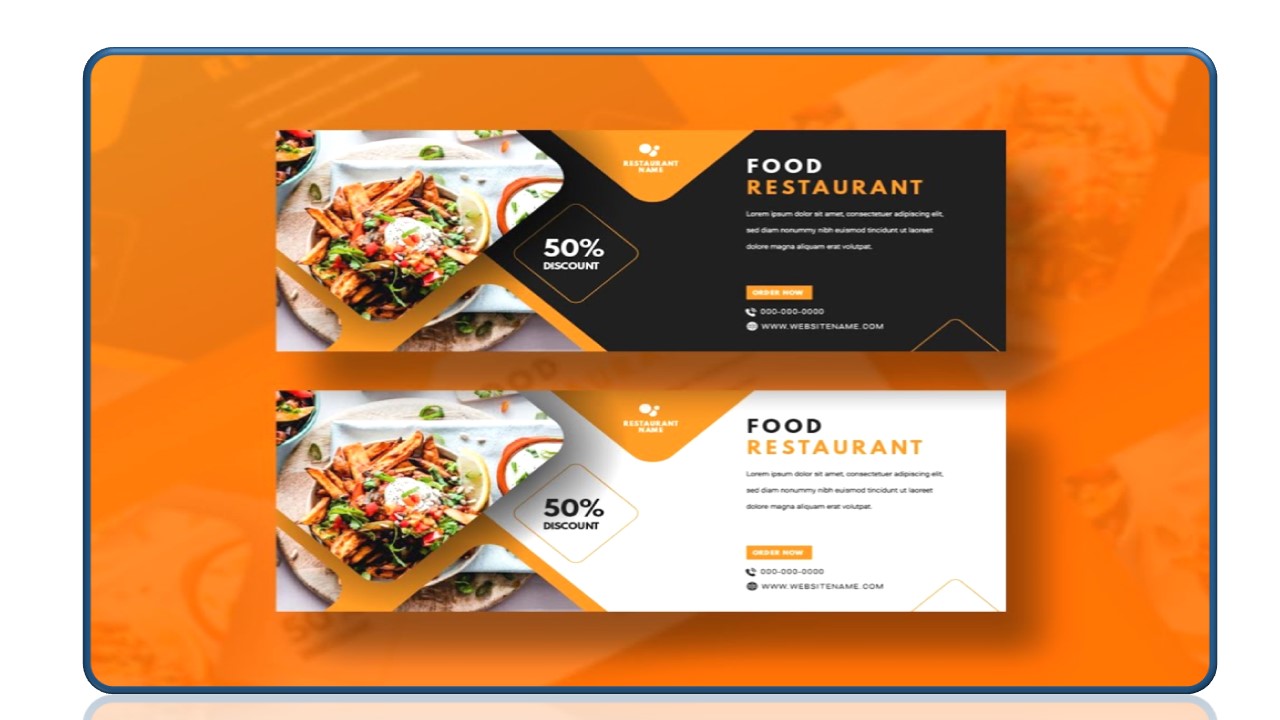 Flyer & Business Card Design
A stylish, modern business card is vital for making a good first impression. Whether printed or digital, a business card is a concrete reminder of a connection and an important driver for networking and collaboration. A distinctive design can make a card stand out from the pack. Industry-leading desktop and mobile apps offer total control over colour and placement, typography and graphical design. Make the most of your first impression.
You can design a single or multi-page magazine spread in Adobe Illustrator. If the spread includes two facing pages, set those two pages as a single document so you can design both pages as if they were one. This technique is especially useful if you are using a single image across both pages. Before designing your spread, look through magazines to see how different spreads are designed. For most spreads, the use of space is just as important as the images you select or the content you type.
Vector art / Cartoon Illustrators / Character Design
From manga-style art and comic books to children's books, many types of illustration utilize character design. Character design is typically a 2D character concept based on the description of a character. Using Illustrator, you can take a rough sketch or even a blank slate and turn it into a unique and compelling character in no time
You can also use layers in the Layers panel to lock and dim the photo of your initial sketch and draw over the top using the Pen tool, Curvature tool, Paintbrush tool, or Pencil tool. The Paintbrush and Pencil tools can create more expressive lines and are similar to drawing on paper—perfect for inking or drawing over the pencil lines of your character.
A brand guide outlines the rules of a brand's identity. Think of a brand guide as a blueprint that ensures consistent branding. It encapsulates the various branding elements and how they can be used to create a clear and compelling brand experience.
Style guidelines are often part of a brand guide and can include things like:
• Typeface formatting, and different methods of application
• Variations of the logo, including using examples
• Image rules of use and styling guides
• Color palettes
• Illustrations and icons
Product packaging design refers to the creation of the exterior of a product. That includes choices in material and form as well as graphics, colors and fonts that are used on wrapping, a box, a can, a bottle or any kind of container.
Sometimes a product is stand alone, and in other cases it's representing an established brand. If your packaging needs to represent a certain brand aesthetic, make sure you've gathered the following information before you start:
Colors
If you already have the CMYK values or Pantone Matching Values (PMS) colors include those as they're specifically for printing. (If not, a hex code is fine, too.)
Fonts
Make sure you have the proper fonts and any specific usage instructions (like kerning or weight).
Logo
If you need to put a logo on the package, make sure you have a vector file available.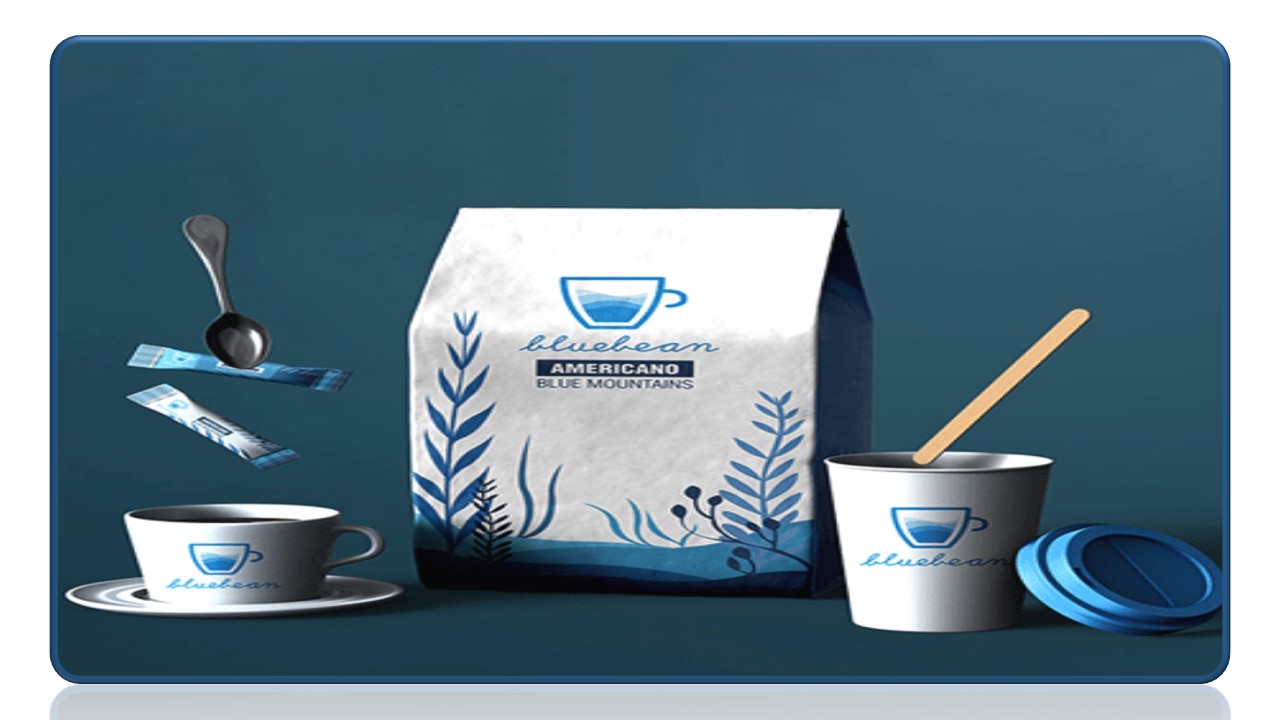 To start, create a geometric icon from a shape underneath the path.
1. Draw a straight line over the shape with the Pen tool by clicking to add points.
2. Add a point to the path by clicking on the path.
3. With the Direct Selection tool, drag the point you added into the center of the shape.
4. With the path selected, choose Object > Path > Divide Objects Below to divide the shape into two.
5. Using the Pen tool, create a vertical path to divide the bottom shape into two shapes using the same Divide Objects Below command.
With the shape divided into three shapes, you can apply a fill color to each.
3D Text in Adobe Illustrator is one most significant component of the application. Two unique procedures can make the 3D content – the main strategy includes the use of 3D Tools. At the same time, in the second system, we attempt to make 3D content without utilizing the 3D tools; Illustrator's effects will quickly reproduce a 3D appearance on your content. You can also include gradients to the drop shadows to create light focuses that are, for the most part, found in 3D shapes, and Illustrator doesn't require a 3D renderer to see the 3D content picture.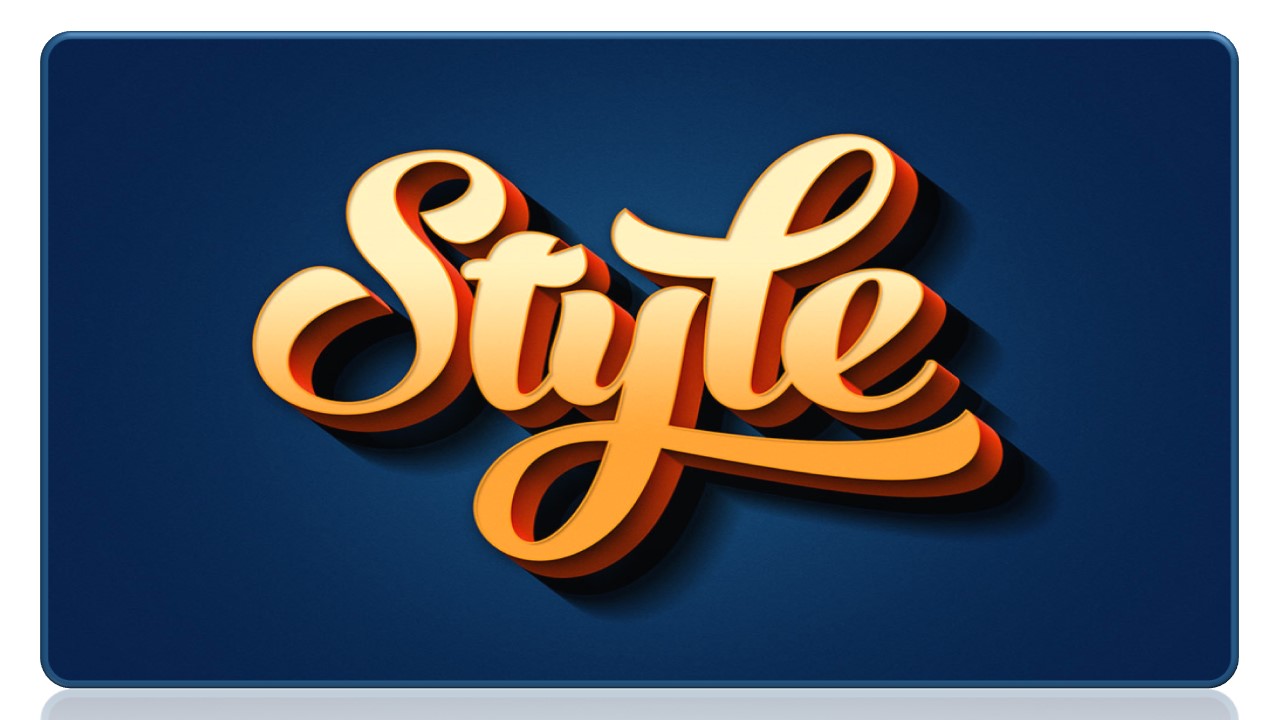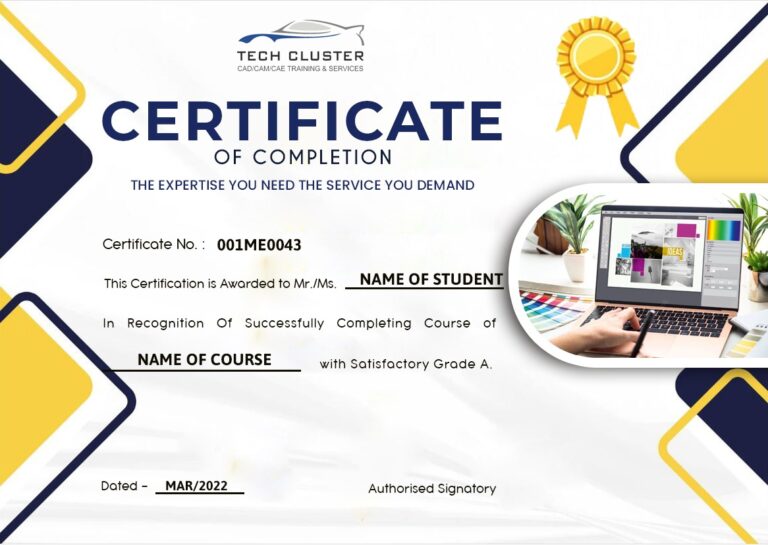 Illustrator Certification Training
About Illustrator Certification Training in Indore at Tech Cluster