AutoCAD Electrical Training in India
Electrical is a versatile and most ubiquitous commercial Drafting & Modeling software tool developed and marketed by AUTODESK since 1982. AutoCAD is an essential tool for High School Students, Technical Students, Draftsmen, Diploma Engineers, Mechanical, Automobile Engineers, and Corporate Managers and is used by over 10 million users worldwide.
Tech Cluster is an institute which provides AutoCAD Electrical training in Indore and offers chances to avail a great opportunity to learn the tool from basic to advanced level. Our expert faculties cover all the important factors of  AutoCAD Electrical Training for beginners and intermediates. With our expert guidance students can excel in their career and earn good. After which you can find good opportunities in MNC Industries like Eicher and other automobile industries.
AutoCAD Electrical Foundation :
Settings and Configurations
Custom Components
Custom Data
Automation Tools
Autodesk Vault Integration
PLC Modules
Advanced Productivity Tools
45 Hours Theory
45 Hours Practical
20 Hours Project work
Settings and Configurations
Settings and Configurations
Creating Wire Types Introduction
About Wires
Creating Wire Types
Creating Wire Types Procedure
Renaming User Columns
Renaming User Column Headers
Changing, Converting, and Setting Wire Types
Changing a Wire to a Different Wire Type
Project: Create and Change Wire Type Layers
Using Reference Files
Using Component Reference Files
Using Description Reference Files
Using Installation and Location Reference Files
About Project Description Line Labels
About Environment Reference Files
Drawing Properties
About Drawing Properties
Drawing Settings
Drawing Properties Components Tab
Drawing Properties Wire Numbers Tab
Drawing Properties Cross-References Tab
Drawing Properties Style Tab
Drawing Properties Format Tab
About WD_M Block Files
Project: Change the Drawing Properties
Project Properties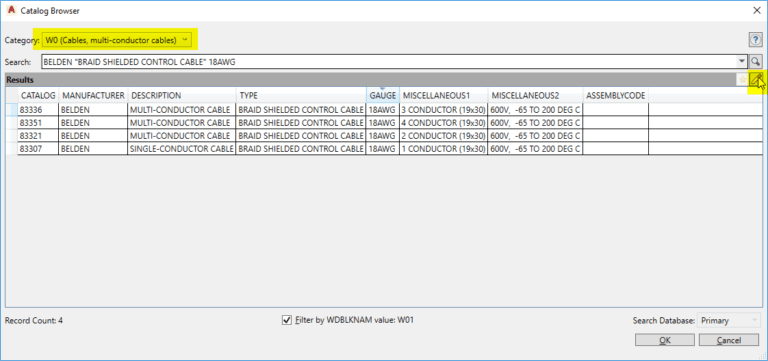 Custom Components
Schematic Symbols
About Custom Schematic Symbols
Symbol Naming Convention
About Symbol Data Attributes
About Symbol Wire Connection and Terminal Attributes
About Attribute Templates
Creating Symbols Using the Symbol Builder Tool
Inserting Symbol Attributes
Project: Create a Custom Symbol
Icon Menu System
Selecting Icon Menus
Selecting an Icon Menu
Editing Icon Menus
Icon Menu Wizard
Editing Icon Menus Procedure
About Custom Schematic Symbols
Project: Modify the Icon Menu
Panel Footprints
Custom Data
Managing Part Catalog Databases
About Part Catalog Databases
Catalog Structure
Adding and Editing Catalog Part Numbers
Adding and Editing Catalog Part Numbers Procedure
Creating Multiple Catalog Subassemblies
Adding Multiple Bill of Material Items
About the Pin List Database
Editing the Pin List Database
About the Terminal Properties Database
Editing the Terminal Properties Database
Project: Add Part Numbers, Pinlist data, and Terminal Properties to the Part Catalog Database
Updating Title Block Attributes Introduction
Title Block Mapping Options
Mapping Formats
Using the Title Block Setup Tool
Creating a Title Block Mapping File
Automation Tools
Updating Schematics from Spreadsheets
Exporting Data to Spreadsheets
Updating Data from Spreadsheets
Generating Automatic Reports
Creating SET Files
Creating a SET Format Files
Generating Reports Automatically
Creating Report Grouping
Generating Reports from a Group
Project: Generate Reports Automatically Project
Autodesk Vault Integration
Autodesk Vault Integration
Working with Autodesk Vault
Opening and Accessing
Logging In to the Vault
Typical Workflow
About Shared Workspaces
Enforcing a Working Folder
Checking In Projects and Drawings
Using the Check In (All) Commands
Checking Out Projects and Drawings
Using the Check Out (All) Commands
Open from Vault
Using the Open from Vault Commands
Attach from Vault
Using the Attach from Vault Command
Project: Access the Vault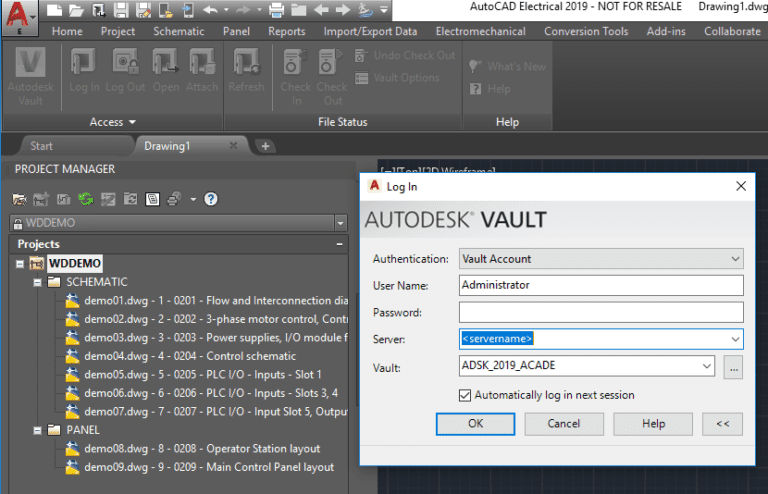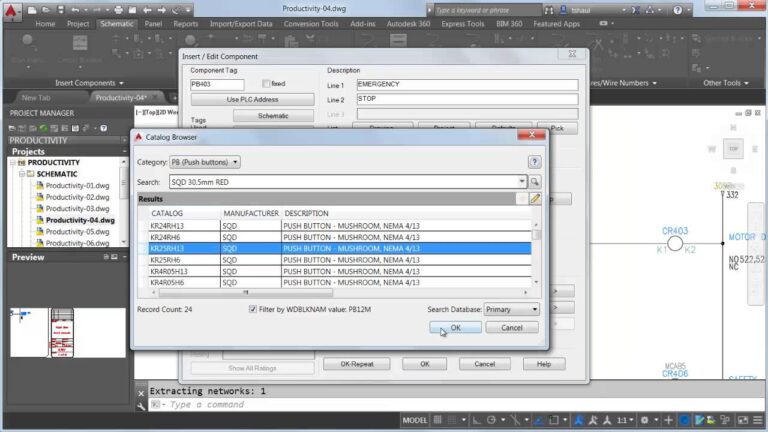 PLC Modules
Using PLC I/O Modules
About the Parametric PLC Module Structure
Inserting and Breaking Parametric PLC Modules
Editing a PLC Component
About PLC Stand-Alone I/O Points
Inserting Nonparametric PLC Modules
Project: Insert a Parametric PLC Module
Using the PLC Database File Editor
About the PLC Database File Editor
PLC Module Specifications
Terminal List and Settings
Creating a Parametric PLC Module
Creating a Module Prompt
Project: Create a PLC Module
PLC I/O Address-Based Tagging
PLC I/O Address Component Tag Format
PLC I/O Address Wire Number Tag Format
Project: Add PLC Address-Based Components
Using the Spreadsheet to PLC I/O Utility Introduction
About the Spreadsheet to PLC I/O Utility
Spreadsheet to PLC I/O Utility Setup
Using the Spreadsheet to PLC I/O Utility
Generating Drawings Automatically Using the Spreadsheet to PLC I/O
Project: Create PLC Drawings from a Spreadsheet
Advanced Productivity Tools
Productivity Tools
Adding Wire Data to Footprints
About Wire Connection Annotation Formats
About Footprint Wiring Attributes
Adding Wiring Information to Panel Footprints
Editing Wire Connection Sequences
Editing a Wire Network Connection Sequence
Project: Add Wiring Data to Footprints
Managing Cables
About Fan In/Out Signals
About Cable Markers
Combining Cable Markers and Fan In/Out Signals
Inserting Cable Markers
Creating Fan In/Out Signals
Project: Identify and Label Wires for a Cable
Using the Circuit Builder
About the Circuit Builder
About Circuit Templates
About the Circuit Spreadsheet
About the Electrical Standards Database
Recalculating Wire Size
Recalculating Wire Size Procedure
Using the Circuit Builder Tool
Configuring a Circuit Using the Circuit Builder
Editing the Electrical Standards Database
Editing the Electrical Standards Database Procedure
Use the Circuit Builder
Working with Peer-to-Peer Drawings
About Peer Diagrams
WDTYPE Attribute
WDTAGALT Attribute
Linking Peer Components
Project: Create Peer-to-Peer Links
Creating One-Line Diagrams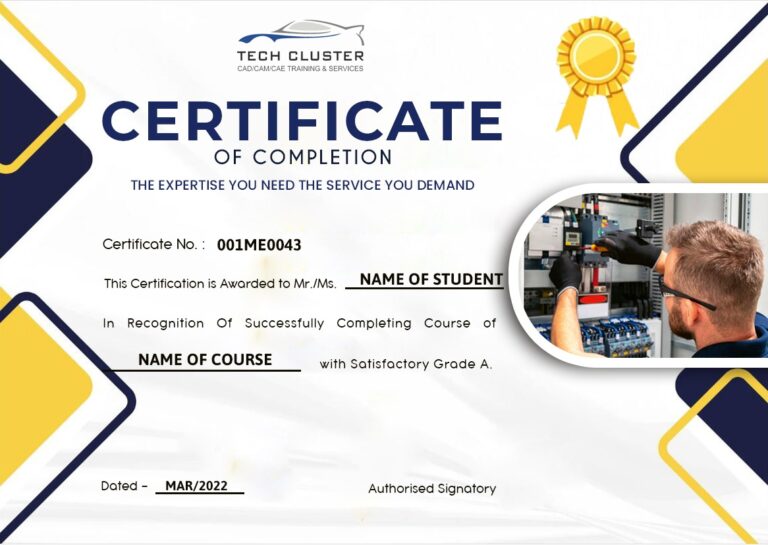 AutoCAD Electrical Certification Training
About AutoCAD Electrical Certification Training in Indore at Tech Cluster