Are you a student looking to develop your skills in design thinking, critical thinking, and innovative design? Do you want to learn about the latest technologies like 3D printing and virtual reality? Then you've come to the right place! Recently, Tech Cluster Design Wala visited the Vikrant group of institutions in Indore, and our design expert, er. Dharmendra Jat, talked about these cutting-edge topics to the students.
This event was held on January 31, 2023, and was coordinated by Mr. Dharmendra Kurmi and Mr. Praveen Patidar, with Ms. Prachi Chincholkar serving as the convener. The boot camp was named "Under Student Development and Student Training Center," and was open to all students studying in B.Tech, Diploma, and Management programs.
At the boot camp, our expert highlighted the importance of design thinking and critical thinking in today's fast-paced world. He emphasized that the ability to think outside the box and come up with innovative solutions is crucial for success in any field. He also discussed the various tools and techniques used in design thinking, such as brainstorming, prototyping, and user testing.
Importance of Design Thinking and Critical Thinking
The students were introduced to the exciting world of 3D printing and virtual reality. They learned how these technologies are changing the way we design and manufacture products, and how they are being used in various industries like healthcare, aerospace, and entertainment. Our expert explained how 3D printing works, and even gave a live demonstration of the technology. The students were amazed to see how a design on a computer screen could be turned into a physical object right before their eyes!
Latest Technologies: 3D Printing and Virtual Reality
Our expert also discussed the importance of keeping up with the latest trends and technologies in the field of design. He encouraged the students to be curious and explore new ideas, and to never stop learning. He also shared some valuable resources and tools that the students could use to further develop their skills.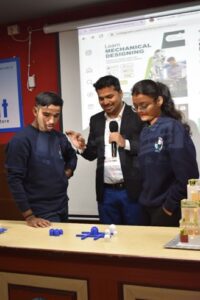 Tools and Techniques of Design Thinking
In conclusion, the boot camp was an enriching experience for all the students who attended. They learned about the latest trends and technologies in design, and were introduced to the powerful tools of design thinking and critical thinking. They also got to see a live demonstration of 3D printing, and learned about the exciting possibilities of virtual reality.
Importance of Continuous Learning and Staying Up-to-Date
We hope that the students will continue to explore these topics and use their newfound skills to create innovative solutions to real-world problems.
Attending a boot camp like this is an incredible opportunity to expand your knowledge and skills in design thinking, critical thinking, and innovative design
. These skills are becoming increasingly important in today's fast-changing world, and being able to keep up with the latest trends and technologies will give you a competitive edge in your career. We hope that this event has inspired you to pursue your interests in design and technology, and that you will continue to learn and grow in these fields.