Trimble SketchUp which was earlier a subsidiary of Google is a 3d modeling software for multi-faceted design and modeling. It can be used for creating architectural, landscape modeling, Interior, Civil and Mechanical engineering design. It even goes beyond this and can also be used for creating 3d animation films and video games. This software is available as free ware and as a paid software with additional functionalities. It has a very huge collection of 3d models of objects that can be used readily while creating one's own 3d design. Wizcrafter is the only Authorized training institute in whole North India that provides training in Trimble SketchUp.
WHAT IS LAND SCAPPING
BENEFITS OF LAND SCAPPING
PRINCIPLES AND ELEMENTS OF LAND SCAP DESIGNS
GRAPHIC AND SYMBOLS IN LANDSCAPE GARDENS
TOOLS AND IMPLEMENTS USED IN LAND SCAPING
LAND SCAPING OF PLACE OF PUBLIC IMPORTANCE
GARDINING OF PUBLIC PLACE
Landscaping is making changes to a piece of land to improve its appearance, viability, and value. It can involve altering the architecture, plants, and exterior design of an area. Landscaping is commonly confused with gardening. While the two are similar, gardening focuses on maintaining plants and flowers, while landscaping refers to designing and cultivating an entire area.
BENEFITS OF LAND SCAPPING
From boosting your home's property value to providing environmental benefits and lowering your energy costs, landscaping has wide-ranging benefits.
Increases Home Value
Homeowners are always looking for ways to improve the resale value of their homes, but home remodels and square footage additions may not always be in the cards. Fortunately, landscaping is a great way to boost value without breaking the bank! Homes with landscaped yards can sell for as much as 12.7% more than those without landscaping. Well-groomed yards can also help sell your home faster by making a strong first impression with homebuyers. In fact, 94% of realtors advise clients to improve the curb appeal of their home before listing.
Good for the Environment
Did you know landscaping can impact air quality? Adding one tree alone can remove 26 pounds of carbon dioxide a year. Not to mention, lawns can keep 12 million tons of dust and dirt from being released into the atmosphere annually. Planting trees, shrubs, and flowers also create more oxygen and reduce soil erosion.
Reduces Energy Costs
On average, a well-designed landscape saves enough money in energy costs to pay for itself in eight years. Strategically planting shrubs and trees around your home can save you up to 35% on air conditioning costs and cut heating bills by 10-25%.
Extend Your Home Outdoors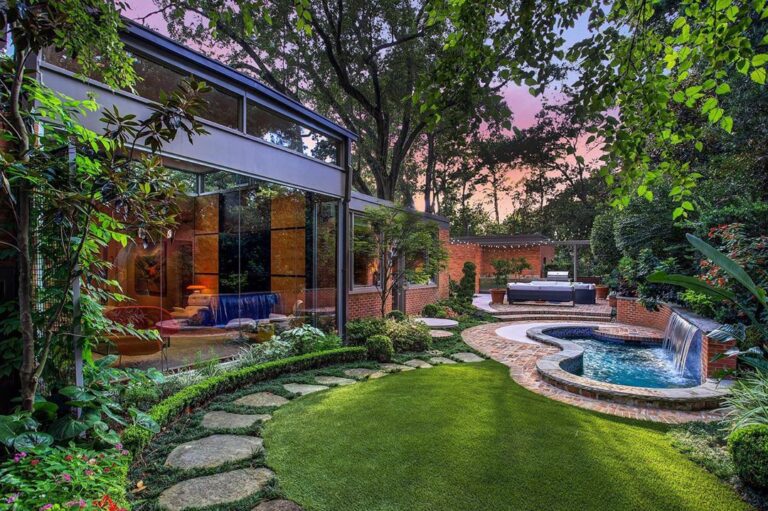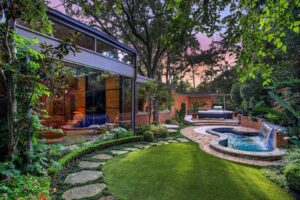 Landscaping can make way for outdoor living spaces like patios, outdoor kitchens, gardens, pools, and more. Though these spaces don't count toward additional square footage or livable space, they are an extension of your home and allow you to better utilize your property.
PRINCIPLES AND ELEMENTS OF LAND SCAP DESIGNS
1. Unity
Unity in landscaping is the repetition and consistency of a design. Repetition is used to bring about unity in your design by repeating like elements which include plants and decor in the landscape. Consistency is used to create unity by fitting different elements of a landscape together to create a common unit or theme.
2. Balance
Balance is simply a sense of equality. There are two types of balance in design: symmetrical and asymmetrical balance. In symmetrical balance, two sides of the landscape are identical while in asymmetrical balance, the landscape composition is balanced using different elements and objects which have almost similar imaginary weight.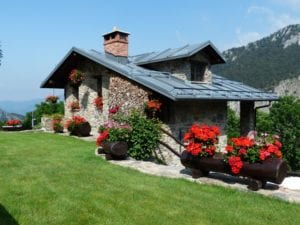 3. Contrast and Harmony
Contrast helps highlight certain elements in your design, while harmony helps elements in a landscape composition look unified. Contrasting elements draw the viewer's attention when they're placed next to each other. Contrast and harmony are achieved by the juxtaposition of any elements of art or using complementary colors side by side.
4. Color
Color gives your landscape design the dimension of real life. Warm colors (e.g. red and orange) seem to advance towards you, making an object seem closer. While cool colors like blues and greens seem to move away from you. Blues and greens are used to create perspective.
5. Transition
Transition is simply a gradual change. Transition in a landscape design is illustrated by gradually varying the plant size or the color intensity. Transition can also be applied to texture, foliage shape and size of different elements.
6. Line
Line is the mother of all elements in landscape design. Lines are used almost everywhere including creating beds, entryways, walkways, texture and perspective. Lines are also used to give an illusion of depth and distance.
7. Proportion
Proportion refers to the size of an element in relation to the other. Among the 8 principles of landscape design, this is the most obvious one but still needs a little planning and thought. One must ensure that all the elements in a landscape design have proper proportions.
8. Repetition
Repetition is directly related to unity. It's good to have several elements and forms in a garden, but repeating the same elements gives your design various expressions. Too many objects that are not related can make your design look unplanned and cluttered. Also, don't overuse an element since over using an element can make your design feel boring, uninteresting, and monotonous.
GRAPHIC AND SYMBOLS IN LANDSCAPE GARDENS
Garden designers use graphic symbols to show elements such as plants and hard landscaping on a garden plan. Different symbols are used to indicate types of plants, such as shrubs, evergreen trees, deciduous trees, and groundcover. Hardscape materials, such as walls, surfaces and fences can also be shown using symbols. There is no single accepted collection of symbols; designers each use their own preferred symbols to represent a particular plant or feature. It is, however, important to be consistent in your use of symbols. Below are some examples of graphic symbols for plants and surfaces.
TOOLS AND IMPLEMENTS USED IN LAND SCAPING
LAND SCAPING OF PLACE OF PUBLIC IMPORTANCE
No matter what, people will always judge a place based on appearances. A location that looks neat and well-maintained is more likely to be liked and visited by people. In contrast, people tend to stay away from places that are dirty and unkempt.
This is where commercial landscaping comes in. Commercial landscaping refers to the planning, designing, and installation and maintenance that goes into an outdoor landscape. The outdoor scene usually includes sidewalks, trees, grass, patios, and more. Good commercial landscaping is crucial to making an area look attractive to people.
As civic leaders begin to recognize the importance of commercial landscaping, especially when providing services in public areas, the demand for professional landscaping services increases in smaller cities such as Madison. Here are some benefits that good commercial landscaping can bring to public areas:
Creates a better living space
As buildings and other human-made structures continue to dominate our cities, every bit of green space is precious. This is what landscaping aims to preserve. Good landscaping practices can integrate the natural beauty of trees and grass into an urban setup of high-rises and sophisticated structures.
Having a touch of nature in the city allows people to relax and take a break in the middle of their daily activities. Furthermore, a shared outdoor area that people love opens many opportunities for social interaction, which is key to building a meaningful community.
Increase tourism and attention
It is no surprise that visitors to a city are drawn to what is unique and beautiful. Given how popular photo-based social media platforms such as Instagram are today, a beautiful and well-curated landscape can do wonders for the area's visibility.
This, in turn, helps attract visitors and boost tourism in a particular town or city. By doing so, it can also build a more positive image of the city and bring it to people's attention in the best way possible.
Prevent erosion and preserve quality water
One of the benefits of investing in the green spaces in a city is that doing so also benefits the human-made structures built in the area. This is particularly true when it comes to preventing soil erosion during the rainy season. As rain falls and carries away sediment, having plants and trees allows soil and water to remain in place. This also helps prevent local bodies of water, such as rivers, streams, and lakes, from being polluted by sediment.
Contribute to a better world
You can never go wrong with choosing to go green. Placing importance on the presence of green spaces and well-maintained public places emphasizes that the local leadership cares about the well-being of not only its residents but also the environment. For example, planting one tree can eliminate up to 26 pounds of carbon dioxide from the air each year, contributing to sustainability and a better world for everyone.
GARDINING OF PUBLIC PLACE
A public garden is an institution that maintains collections of plants for the purposes of public education and enjoyment, in addition to research, conservation, and higher learning. It must be open to the public and the garden's resources and accommodations must be made to all visitors. Public gardens are staffed by professionals trained in their given areas of expertise and maintain active plant records systems.
Many related entities are part of American Public Gardens Association or benefit from member organizations. These entities include: Botanical gardens, arboreta, cemeteries, zoological gardens, sculpture gardens, college and university campuses, historic homes, urban greening organizations, natural areas, and city/county/state/federal parks.
The following public garden definitions are utilized by some of these entities. 
Botanical Garden
"A place where a wide variety of plants are cultivated for scientific, educational and ornamental purposes, often including a library, a herbarium and greenhouses; an arboretum."  —American Heritage Dictionary
"A garden often with greenhouses for the culture, study, and exhibition of special plants —also called botanic garden." —Merriam-Webster Dictionary
Arboretum
"A place where trees and plants are grown in order to be studied or seen by the public."                 —Merriam Webster Dictionary