Brick work is an important part of construction work done with the help of bricks and cement mortar. It is done with different quality of bricks with different ratios of cement mortar according to the requirement.
As the most common bricks are rectangular prisms, six surfaces are named as follows:
Top and bottom surfaces are called Beds
Ends or narrow surfaces are called Headers or header faces
Sides or wider surfaces are called Stretchers or stretcher faces[7]
Mortar terminology- showing perpends and bed.
Mortar placed between bricks is also given separate names with respect to their position. Mortar placed horizontally below or top of a brick is called a bed, and mortar Placed vertically between bricks is called a perpend.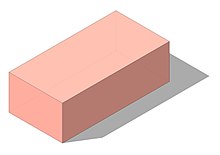 A brick made with just rectilinear dimensions is called a solid brick. Bricks might have a depression on both beds or on a single bed. The depression is called a frog, and the bricks are known as frogged bricks. Frogs can be deep or shallow but should never exceed 20% of the total volume of the brick. Cellular bricks have depressions exceeding 20% of the volume of the brick. Perforated bricks have holes through the brick from bed to bed, cutting it all the way. Most of the building standards and good construction practices recommend the volume of holes should not exceeding 20% of the total volume of the brick
INTRODUCTION
BRICK ORIENTATION
BRICK SIZE
TYPES OF BRICK
BONDS IN BREAK
SOME IMP SEGMENT